Chin fillers are injectable dermal fillers used to add definition and shape to the chin area and lower jawline.
An under formed or weak chin can be genetic and can effect a patient's overall confidence. Dermal Filler can be used on the chin to stiffen the skin and define the chin and jowl area, lessening the weakness of a weak chin. Chin filler can also lengthen and enhance a patient's lower facial appearance creating a more balanced profile.
Who should have chin fillers?
People over the age of 21 who would like to better define their jawline, strengthen their chin or fill wrinkles or dents in the chin are good candidates for chin fillers. Often those in their 40's onwards may experience some volume loss around the lower face, and chin filler is a great way to add the volume back, thus strengthening and tightening.
Do Chin Fillers Work?
In short, yes. non-surgical chin filler procedure can look very natural, when performed correctly by a skilled injector. The chin is often treated a long with the jaw to enhance and define the face.
Is getting chin filler painful?
Every chin filler treatment will be different depending on what you' are trying to achieve. It also depends on your pain threshold; for some, it may feel painful and for others, it will just be uncomfortable. We use a topical Topical anaesthetic to ensure the treatment is as comfortable as possible.
What Are Some Benefits of Chin Fillers?
There are many benefits for this type of non-surgical procedure. These include:
Minimal downtime –– you can return to work or home immediately
Only uses a topical anaesthetic
You can see instant results
Can be touched up with follow-up treatments to maintain the look you prefer
It is far less expensive than an actual chin implant
You can build up volume over time
Results can look natural
They can balance your profile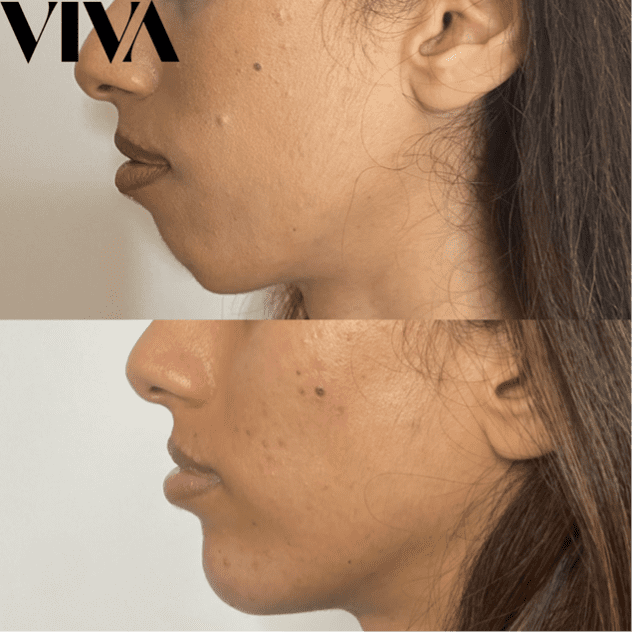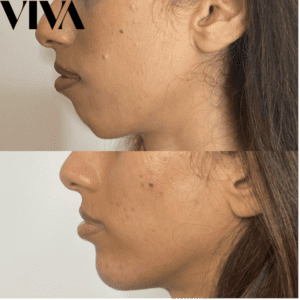 How long does chin filler last?
Most Chin Filler treatment results tend to last between 12-15 months. The expected longevity of your fillers will also depend on the specific brand, your metabolism and other factors.
How much do chin fillers cost?
This depends on how much dermal filler is needed to create your desired result.
You can find our price list our website.
How do I book in? 
Head to our booking page, to book a consultation at our Chelsea or Kent Clinic.