How can I fix my thin lips?
One of the most common questions we get at VIVA Skin Clinics is "How can I fix my thin lips?" or "Do you have any lip filler before and after for thin lips"?. Yes we do!  Thankfully, we have a brilliant solution for lips– dermal filler! You can try all the lip-plumping lip glosses you want but nothing can beat a natural, transformative lip filler treatment at VIVA. 
What is the cause of thin lips?
There are a number of reasons why people may experience 'thin lips':
DNA: Some people may have naturally thin lips as a result of genetics.

A sign of ageing: As you get older the collagen in your lips breaks down and the muscles tire, causing your lips to lose firmness and take on a thinner appearance. This can also lead to wrinkles around the lips.

A result from smoking and sun exposure: Over time, consistent exposure to the sun can lead to thinning in lips. This is especially true when combined with other unhealthy habits such as smoking, which can soon lead to a thinner appearance as well as lip lines and wrinkles.
How can I fix my thin lips?
Lip filler is the perfect way to add volume to lips.
At VIVA Skin Clinics, we use hyaluronic acid dermal fillers to gently and naturally add volume to the lips, and surrounding area creating a natural fullness and enhanced shape and structure.
Using dermal fillers following a full facial assessment, we can not only increase volume but restore balance and proportion to the face, even out any lip asymmetry and help smooth smokers' lines leaving the lips looking fresh and youthful.
Can you have natural-looking lip fillers?
At VIVA, we specialise in natural-looking results that enhance our clients' features rather than change them. We always take a conservative approach to procedures, beginning with a touch of product and adding more if necessary. Generally, for new patients, we recommend just 0.5ml to add a subtle volume plump and fine-tune lips. It's also important to us to consider every individual and develop a bespoke treatment plan for each and every client, ensuring personal desired results are achieved. We, therefore, provide in-depth one-to-one consultations with every treatment package.
Lip filler before and after thin lips: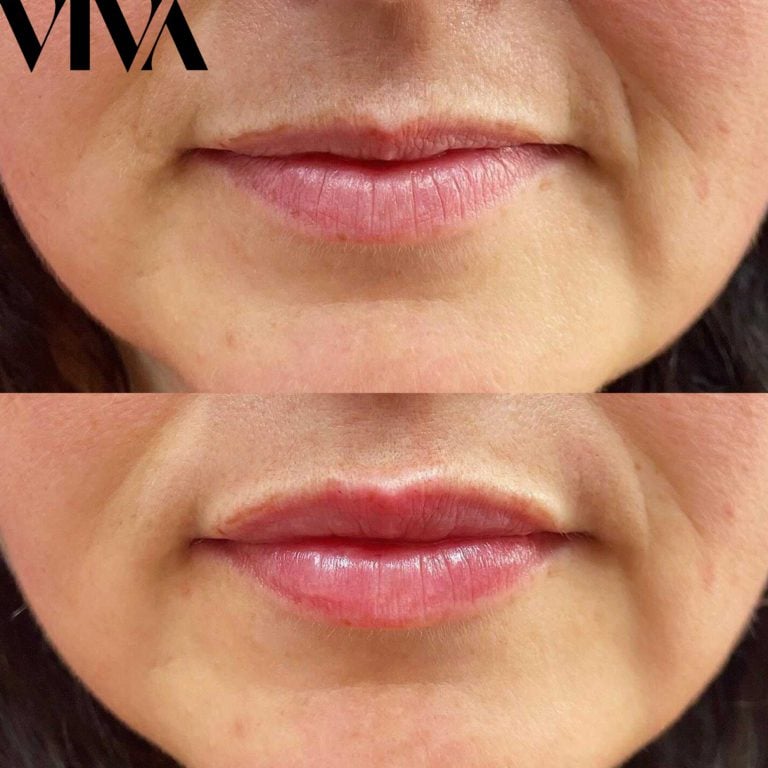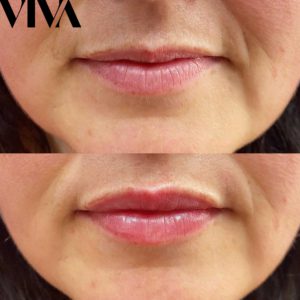 Interested in any of these treatments? Book a consultation with us today! You can also find our price list here.