At VIVA Skin Clinics, we use products from the Juvederm Vycross range to achieve effective, beautiful and natural looking lip fillers. These high-quality fillers are made from hyaluronic acid (HA), a molecule which is naturally found in the body. These fillers are considered one of the safest product types on the market. That said, as with any injectable, bruising can happen. Many potential patients are concerned about bruising and swelling and worry about how long this will really last. Does this sound familiar? Let us guide you through the common side effects, how long they last and what you can do to reduce your risk.
What are the risks associated with lip filler:
Lip fillers are injectable treatments and therefore don't come without risks. Side effects a patient may experience include:
Bleeding
Bruising
Swelling
Redness
Tenderness
These are common reactions which are normal after lip fillers and injectable treatments in general, so please don't worry if they occur. In more severe cases, it is possible for lip fillers to cause vascular occlusion and skin necrosis. This is very rare. That said, it's important to visit an experienced and qualified practitioner to reduce the chances of this happening.
Is bruising after lip filler normal?
Bruising is one of the most common side effects when it comes to having any injectable treatment but the lips are particularly sensitive so can be more susceptible. Whilst some patients can experience no bruising at all, it is certainly something to be prepared for. It's nothing to worry about but we understand that it can be frustrating so it's important to be aware that a small amount of bruising is likely. We recommend that you don't have treatment in the 2 weeks prior to any important events to give yourself time to recover.
It's also important to remember that these effects can be heightened by the patients' age, how many mls has been injected, diet, general health, medications and whether the patient is particularly prone to bruising.
How long does lip filler bruising last?
Lip filler bruising and swelling tends to be at it's worst in the couple of days following treatment. Within 5-7 days you should see noticeable improvement. At VIVA Skin Clinics, we ask that patients wait 2 weeks for these effects to fully subside. Every patient is different so it's important to allow sufficient time for everything to settle down.
How to reduce the chance lip fillers bruising:
Bruising is a common side effect but there are a few things you can do as a patient to reduce your risk before stepping into the treatment room. These include:
Choose your practitioner wisely! Choose a doctor or nurse injector with proven experience in treating the lips. Look up their credentials, read reviews and make sure you have a thorough consultation before your procedure.
Avoid alcohol for 24 hours before treatment. Alcohol thins the blood and can therefore make bruising worse.
Don't take blood thinning medications such as Ibuprofen or Aspirin before your treatment. Speak to your practitioner if you are worried!
If you bruise easily or are particularly concerned about this side effect, taking arnica tablets in the lead up to your appointment can help decrease the risk of bruising and swelling.
Lip filler aftercare tips:
At VIVA Skin Clinics, your practitioner will go through aftercare with you post treatment. Steps to take include:
Go makeup free for 24 hours after your lip filler procedure.
Avoid alcohol for 48 hours.
Avoid strenuous exercise for 48 hours post treatment.
Avoid heat related environments such as spas, saunas, hot tubs and hot showers for 24 hours.
Avoid the use of AHA's, retinols and vitamin C for 24 hours.
Stay away from facials, waxing, chemical peels, skin needling, microdermabrasion, IPL or laser treatments for 2 weeks after treatment.
Avoid touching the face too much or applying pressure to the treated area.
Treat pain with paracetamol.
Apply arnica cream or use an ice pack after treatment to reduce swelling.
Leave good time between treatment and any important events and celebrations. We recommend 2-4 weeks.
Importantly, don't panic! It is normal to experience some bruising – this will subside in a couple of weeks and you can enjoy your results.
How do we reduce the risk of lip filler bruising at VIVA?
Our practitioners are medically trained specialists and we take a number of steps to reduce our patients' risk of bruising and swelling:
We use the highest quality products from the Juvederm Vycross range. We never compromise on quality to ensure we can always provide optimum results.
We never overfill the lips! We usually recommend starting with 0.5ml of product to achieve a subtle lip plump. If you want more volume, we can always add this in your next session.
We use advanced techniques to administer dermal filler, limiting injection points and adhering to correct product placement.
We keep the area clean! We make sure the lips and surrounding area are completely makeup free before injecting.
We provide you with an aftercare leaflet so you can continue to provide the best care for yourself at home.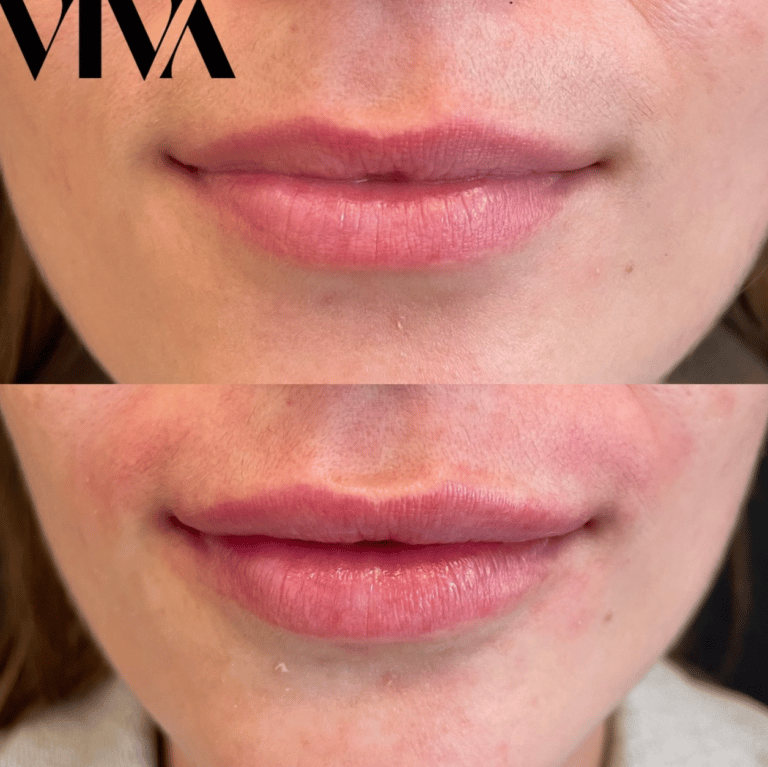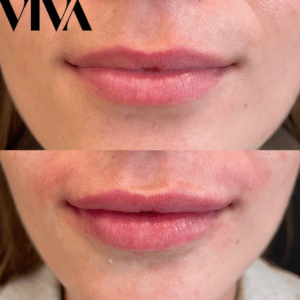 \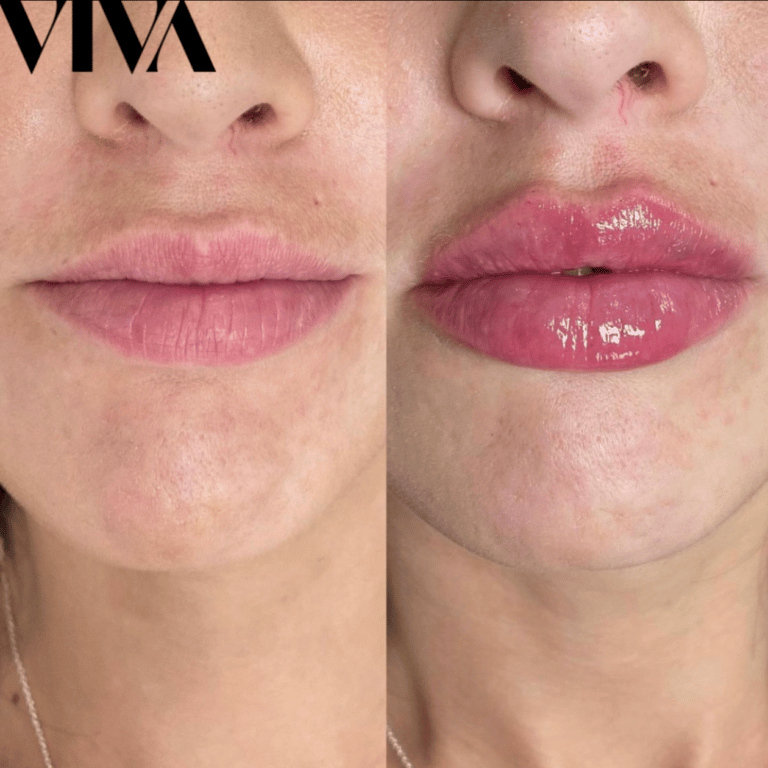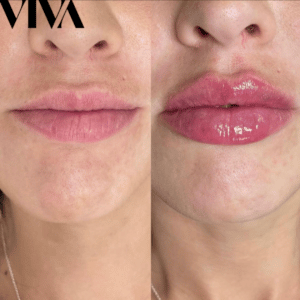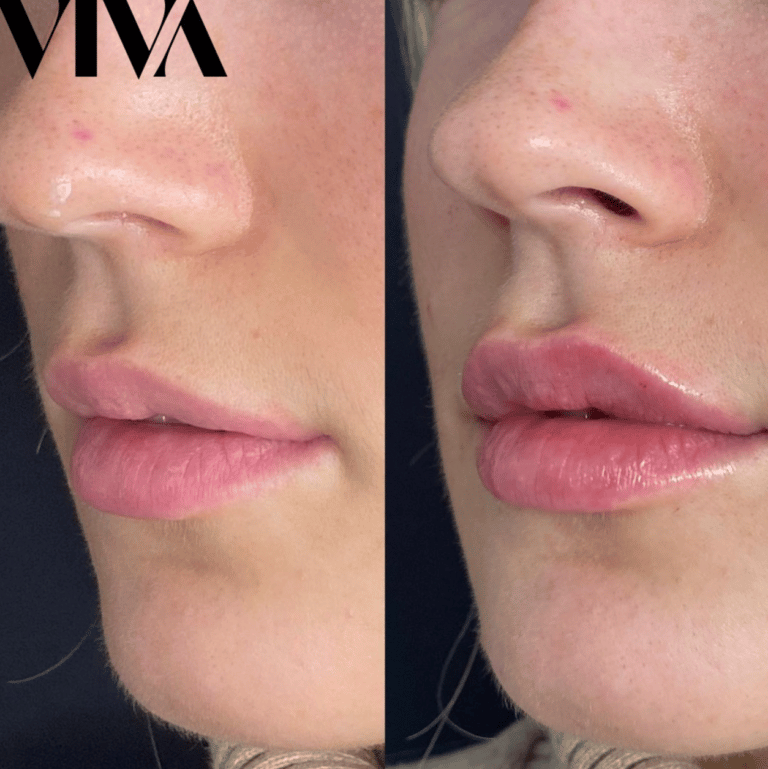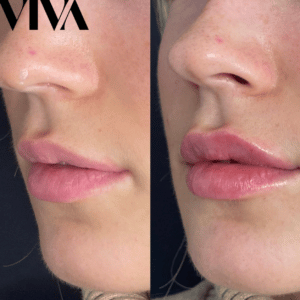 Interested in lip fillers?
If you are considering having a lip filler treatment and want to find out more, why not book a consultation with one of our experts? Nurse Eva and Nurse Vikki are lip filler specialists and will take the time to assess how to achieve your best aesthetic results. They are also on hand during consultation to answer your questions and prepare you for treatment.
Want to learn more about lip fillers and how much product we use? Read our recent lip filler blog post here.
Interested in booking in for a dermal filler facial contouring treatment? Head to our booking page.