Anti-wrinkle injections at VIVA Skin Clinic in Chelsea are quick and virtually painless treatments that reduce the appearance of lines around the face and neck.
Wrinkle reduction, commonly referred to simply as anti-wrinkle injections are the most popular non-surgical aesthetic treatment in the UK. They work by targeting the muscles in the face that cause the appearance of wrinkles, and relaxing them so that the surface of the skin appears smooth and line free.
Leading wrinkle reduction clinic in Chelsea
Viva Skin Clinics on the Kings Road in Chelsea is a doctor-led centre for excellence in non-surgical aesthetic treatments like wrinkle reduction. Founded by Dr Rupert Critchley, who leads a skilled team of practitioners, its guiding principle is creating confidence for clients.
"We work with a team of highly-trained aesthetic artists to align your inner sense of self with your outer self," says Dr Rupert.
VIVA's ethos is enhancing natural beauty through bespoke non-surgical treatment programs, helping to address issues that may be preventing you from feeling like the best version of yourself.
Face and neck wrinkle reduction
Anti-wrinkle injections can be used on a number of concerns like forehead wrinkles, 'eleven lines' between the eyebrows, 'bunny lines' in the upper nose area, frown lines and crow's feet.
In addition to reducing unwanted wrinkles like the ones above, anti-wrinkle injections are super for treating ageing-related concerns in the mid-face, lower face and neck area, where repeated use of muscles can result in deep-set wrinkles.
Experts in anti-wrinkle treatment
Applying muscle-relaxing injections to these areas requires an advanced understanding of the facial muscular anatomy, to accurately and effectively target the muscles that are causing the appearance of wrinkles.
VIVA Skin Clinics uses products by Allergan for their wrinkle reduction treatments in their Chelsea and Tunbridge Wells clinics – one of the safest and most renowned brands.
"We always aim to ensure that results appear natural as opposed to 'frozen', which is a common concern for people about wrinkle reduction treatments."
After treatment, the result will continue to develop and you'll enjoy a refreshed, rejuvenated look.
What happens during treatment?
Treatments typically last for 30 minutes and are done at VIVA Skin Clinics in Chelsea or Tunbridge Wells. The effects usually last for 3-6 months, and recovery time is minimal.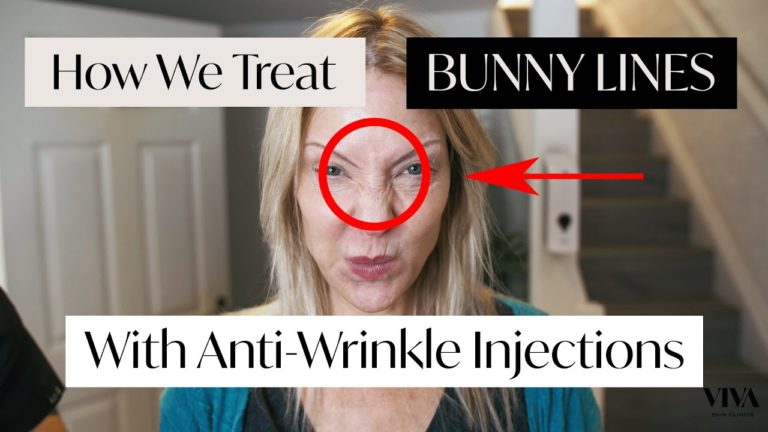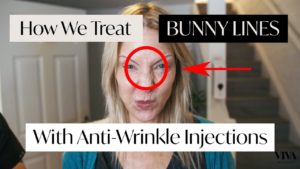 Anti-wrinkle injections are normally perfectly comfortable. You may feel some stinging at the point of application, but this can be minimised through the use of a topical Topical anaesthetic prior to application.
If you'd like to see what happens during the procedure, take a look at this video where Dr Rupert treats a client for removal of 'bunny lines' on her face, with superb results.
Consultations and prices
To arrange a consultation to find out more about non-surgical treatments at our Chelsea or Tunbridge Wells clinic, head to our online booking page.
And you can view our price list on our website.
'Looking incredible needn't cost the earth, but confidence is priceless'
How safe is anti-wrinkle reduction?
VIVA Skin Clinics use FDA approved injections. This treatment has been through many studies to prove its effectiveness, and it has an excellent safety record.
As with any injectable treatment, you should ensure that your practitioner is highly skilled. Botulinum Toxin A is a prescription-only medicine, and should be administered by a Doctor, Dentist or Prescribing Nurse.
A VIVA welcome
Viva Skin Clinics Chelsea have recently moved into a brighter, larger location at 558 Kings Road, after many wonderful years nearby. We'd love to welcome you as a client, following pre-treatment advice and consultations.
After our expert treatments, we offer considerable aftercare, reflecting our fully rounded approach to well being. We call this wellness that works.
We have a really useful guide to everything you can expect if you're new to us – see below. Wherever you are in your treatment journey, you're guaranteed a warm welcome at Viva.
First appointment? Here's what you need to know.
Viva Skin Clinics locations
Viva Skin Clinic, Chelsea
558 Kings Road
London, SW6 2DZ
Viva Skin Clinic, Tunbridge Wells
38 High Street
Tunbridge Wells, TN1 1XF