What is cosmetic rhinoplasty?
Here is a video of Dr Rupert Critchley from VIVA Skin Clinics in Chelsea before, during and after a cosmetic rhinoplasty treatment. The video is just over 6 minutes long, which gives you an idea of how quick the procedure is.
The results last for up to 12 months. Recovery time is minimal and you can return to work the same day.
Non-surgical rhinoplasty in London
VIVA Skin Clinics is one of London's leading centres of excellence for non-surgical cosmetic and aesthetic treatments. As well as non-surgical rhinoplasty, VIVA offers anti-wrinkle injections, dermal fillers, chemical peels, non-surgical facelifts and more.
VIVA is based in newly refurbished clinic space at 558 Kings Road in Chelsea, London. It was founded by Dr Rupert Critchley and his team includes qualified dentists and registered nurses. Doctor Rupert's values of creating confidence runs through the whole practice.
"Everything we do here at Viva Skin Clinics is centred around creating confidence. Your first steps into the aesthetics world can be daunting, and I am proud to say that our team is leading the way in aesthetic excellence."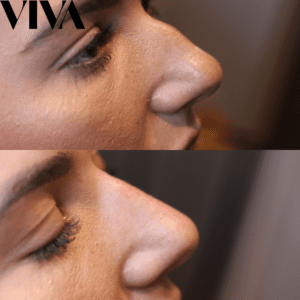 What result can you expect?
Typically, people seek cosmetic treatments after thinking about it for two years. The nose is the focal point of the face. A non-surgical nose job gives an instant result to correct a misshapen nose.
Anyone who was previously unhappy with the shape of their nose can expect to leave VIVA Skin Clinics with renewed confidence, feeling happy with their 'new and improved' nose.
You can expect your nose to appear straightened, for the dip above the bump on the nose to be filled giving a smooth contour, and / or for the tip to be lifted.
Is cosmetic rhinoplasty safe?
A non-surgical nose job is far safer than its surgical alternative, with dramatically shorter recovery time and none of the health risks associated with surgery.
VIVA Skin Clinics uses the most effective and safest FDA approved products, and these dermal fillers are broken down naturally within the body. The treatment is deemed to be safe when administered by a professional injector. Any risks will be discussed during a pre-treatment consultation.
How much does treatment cost?
Non-surgical nose jobs are also cheaper than the surgical alternative. Take a look at our price list and read more about non-surgical rhinoplasty costs at VIVA Skin Clinics. You can also find out more about the treatment and see answers to some common FAQs about rhinoplasty.
Cosmetic rhinoplasty: Next steps
To arrange a consultation at VIVA's Chelsea clinic, head to our booking page.
Following pre-treatment advice and consultations, treatments are done by one of our highly-skilled and medically trained aesthetic artists.
After treatments, we offer considerable aftercare, reflecting our 360-degree approach to our patients' wellbeing.
Starting your journey with VIVA
We know that cosmetic procedures and making changes to the way you look can feel like a big move, so we have assembled a guide to all the steps on your journey with us.
And if you're new to VIVA, everything you need to know before your first appointment is in the 'need to know' link below.
First aesthetic appointment? What you need to know
Wherever you are in your treatment journey, you're guaranteed a warm welcome at VIVA.
VIVA Skin Clinics locations
Viva Skin Clinic, Chelsea
558 Kings Road
London, SW6 2DZ
Viva Skin Clinic, Tunbridge Wells
38 High Street
Tunbridge Wells, TN1 1XF