Are you looking for the best Botox treatment in  London? At VIVA Skin Clinics, we specialise in anti-ageing injectable procedures such as Anti-Wrinkle using Botox . Our highly skilled team of medical professionals are experts at giving natural results and see 100's of clients for this treatment weekly. Learn more about the benefits of Botox treatment and where we use Botox to help refresh and smooth out fine lines and wrinkles.
What is Botox?
Botox is one of the most widely known brands of botulinum toxin injections. Botox is a medication used to treat wrinkles and fine lines around the mouth, eyes, brows and forehead as part of our Anti-Wrinkle treatment. It can also be used to treat a number of other facial concerns such a square jaw or a gummy smile. BOTOX is a type of neuro-toxin that works by temporarily paralysing the muscle and thus reducing the appearance of wrinkles and preventing future ones. Botox is know by many names; Anti-wrinkle injections, botulinum toxin, Azzalure, Bocoture- however, the name Botox is the brand name by Allergan and is the most common use of term for this treatment.
 

How does Botox work?

Botox injections are designed to block nerve signals to muscles. As a result, injected muscles can't contrast, meaning the skin that is attached to the muscle on your face also relaxes. This means that fine lines and wrinkles that have already occurred are smoother and any future ones are prevented. These effects are always temporary, but can up to 4 months. Most of our patients have 3 areas of Botox® in our Chelsea and London Clinics – in the forehead, crow's feet and frown lines.
How much is Botox at VIVA?
1 area starts at £195, 2 areas start at £250 and 3 areas start at £299.
What cosmetic conditions can be treated with Botox at our Chelsea and London clinics?
Forehead Lines – Horizontal forehead lines are a common feature are often more prominent as we get older.. Forehead lines can be caused by gravity, age, genes, but the most common cause is from our forehead muscles contracting when we raise our eyebrows. This movement is often created by contraction of the forehead muscle and in some people can create a tired or stressed appearance.
Crow's Feet – Crow's Feet lines and wrinkles are formed by contraction of the muscle around the eyes, and occur on smiling, laughing or squinting. They are often also a result of the ageing process. In some people they are present at rest and can deepen with time to extend into the cheek areas creating a tired and stressed appearance.
Frown Lines – Frown lines are folds of skin caused by repeated muscle contractions that can pull the skin downward over time. As this happens, the skin can become thin and more wrinkled, creating a furrowed appearance in the skin. Frown lines are vertical lines between and above your eyebrow often creating an angry, stressed or tired appearance.
Gummy Smile – A gummy smile described a condition when someones gums show when smiling. This is not a medical issue, but in some cases this can be detrimental to a person's self-esteem.  'Gummy smile' is often caused by hyperactive muscles in the face which pull the top lip up higher than usual when smiling, exposing the gum tissue.
Jawline Slimming – Anti-wrinkle injections can be used to produce a slimmer shape to the lower face. Anti-Wrinkle Treatment selectively weakens the masseter muscle over time leading to an overall reduction in the size of this muscle. Following the injections, these muscles relax and reduce in size, giving a reduced jawline.
Botox Before & Afters: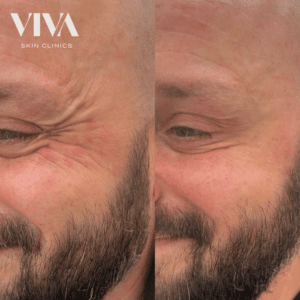 Before and After: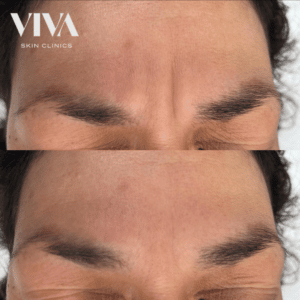 Before and After: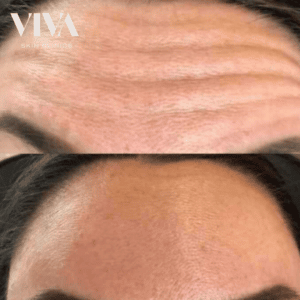 Our Chelsea clinic is based on Kings Road in Chelsea. VIVA is walking distance of iconic Chelsea institutions like the Bluebird Cafe, our clinic is designed with calm and peacefulness in mind. Based around our classic VIVA palette of natural, earthy, neutral tones, we have created a homely space for our patients. The clinic is made up of three beautiful treatment rooms where we offer dermal fillers, anti-wrinkle treatments, medical grade skincare and more.
Ready to book your FREE consultation in Chelsea and London Clinics?
All VIVA patients receive a FREE consultation with their chosen practitioner. BOOK NOW OR call our friendly team on 02037 332199.
Video of Botox in Chelsea and London
Learn more about our Botox services with this Botox Video below.