Natural Results .05ml Lip Filler Treatment Video | Before & Afters
How much is .05ML of lip filler:
Want a plump pout but dont want to look overdone, unnatural or too obvious? Then .05ml lip filler may be the right starting place for you!  .05ml is half of a 1ml dermal filler syringe which is more commonly used accross the face for other injection areas such as cheeks, temples, chin and jawline. For lip filler treatments when patients request a natural look and appearance many choose .05ml to retain their natural lip border and shape but only to enhance the volume slightly. This is an excellent starting point for first time lip filler treatments and nervous patients who may want to try fillers for the first time. .05ml of dermal filler for the lips gives excellent results and is a good base to slowly build volume in the lips in order to maintain the natural lip border.
How much lip filler product do you need
The amount of product needed for a lip filler treatment varies from person to person. It also depends on the look you are trying to achieve. For example natural results we would recommend .05ml rather than more dramatic results at 1ml. This will depend on your desired results and shape of your lips.
When it comes to lip filler, we usually recommend a subtle 0.5ml to begin with. This is enough to achieve a lovely soft volume which sits seamlessly alongside your natural lips. If you wish to have more product after 2 weeks, another session can be arranged. We do ask that you allow the full 2 weeks to allow any residual swelling and bruising to subside so we can see your final results.
The most natural-looking lip filler
The most natural looking lip filler products are widely considered to be those containing hyaluronic acid (HA). HA is a naturally occurring substance in the human body and it works to hold on to moisture and lubricate tissue and joints.
At VIVA Skin Clinics we use products from the Juvederm VYCROSS range which are HA bases and help to lock moisture in when injected. More specifically, we use Juvederm Volbella or Juvederm Volift to add volume, definition and shape to the lips. These products are soft and lightweight, perfect for achieving that perfect, natural looking pout.
How much does .05ml lip filler cost?
At VIVA Skin Clinics we charge by the ml and our prices are as follows:
VIVA Associates: £280 for 0.5ml 
Rupert: £400 for .05ml
The price of dermal fillers varies widely and is affected by things like the product used, the experience of the practitioner and the location of the clinic. There is very little legislation in place surrounding the administration of dermal filler in the UK so it can feel like a minefield looking for a reputable clinic. When searching, it's important not to be swayed by cheap prices – these are injectable treatments that can be dangerous in the wrong hands.
Instead, look for an injector who is a medical professional with lots of experience, the relevant qualifications and the correct insurance.  They should also use high-quality products and conduct a thorough consultation. Do your homework and check out reviews and before and after images before committing to any procedure.
.05ml Lip Filler Before and After
Natural soft plump lips- our signature at VIVA! Below are just a few examples of our lip filler using .05ml of dermal filler.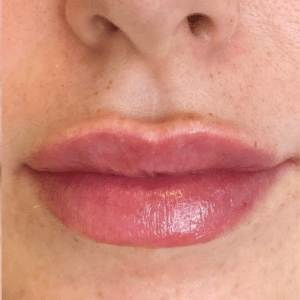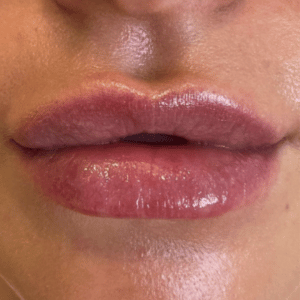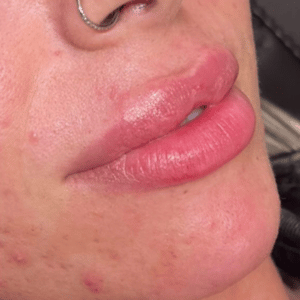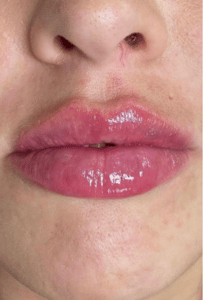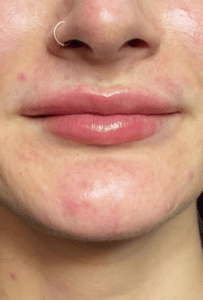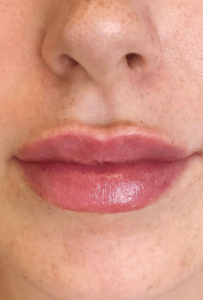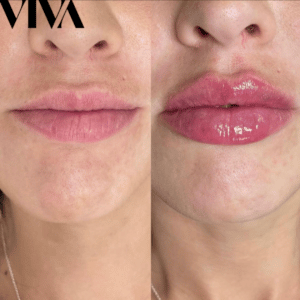 What is 1ml of dermal filler?
When we talk about 1ml of dermal filler, we are generally referring to one syringe of dermal filler. At VIVA Skin Clinics we always talk to patients in terms of mls to make it super easy to understand how much product will be injected. We always recommend the amount that will be effective but still keep you looking like you. It's really important to us that we use treatments to help you look and feel the best version of yourself, rather than make drastic changes.
Is .05ml of lip filler enough?
Every patient is different so the specifics of your procedure would need to be discussed with your medical practitioner during consultation. However, we do always recommend taking a conservative approach to lip injections. 0.5ml is often the perfect amount to add gorgeous, natural-looking fullness. It may sound like a small amount but it can go a long way to achieving your desired results.  If you want another volume boost, it is much easier and safer to add this in stages than add too much too soon. The last thing you want to do is overfill the lips as this will result in an unnatural, disproportionate finish.
Who performs lip filler treatments at VIVA Skin Clinics?
We recommend booking your lip filler consultation with one of our VIVA injectors, Doctor Rupert or Nurse Vikki. They are both experienced practitioners with a love for boosting confidence with natural-looking results. We specialise in lip injections and look forward to welcoming you to the clinic to outline your individual treatment plan.
Want to find out more about treatments at VIVA Skin Clinics? Check out our blog post all about the Juvederm range we use for dermal filler.
Ready to book? Speak with a medical professional about your next lip filler at a complimentary consultation. Book yours online today.
Need more lip-talk? Check out these related blogs below: