BEST PRICE HYDRFACIAL
Are you looking for the best price HydraFacial near you? At VIVA our passion to share the joy and confidence that comes from good skin. Thats why we offer our luxury one hour classic hydrafacial for £99 every Thursday and Friday to get your skin weekend ready!
HYDRAFACIAL BEFORE AND AFTER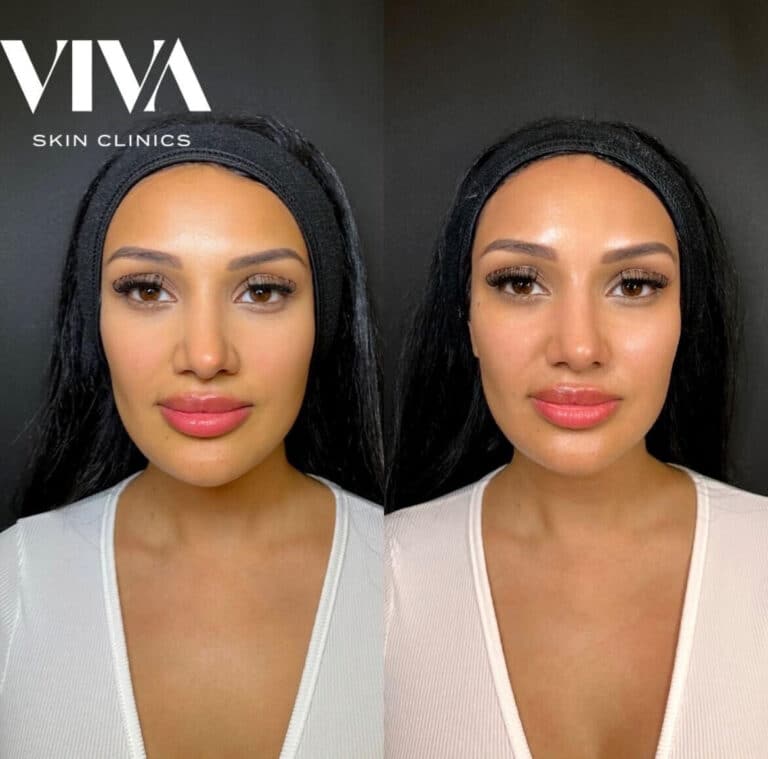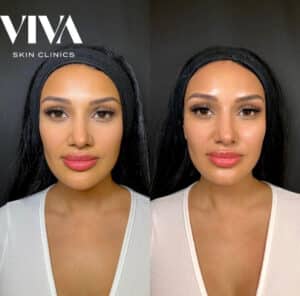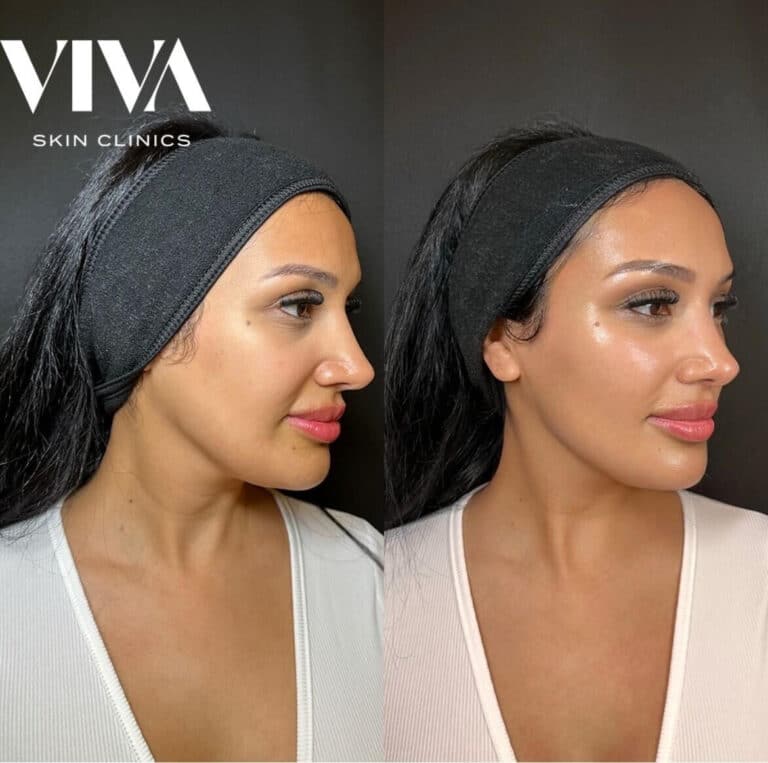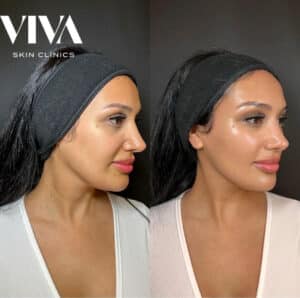 WHAT IS HYDRAFACIAL?
A HydraFacial is a machine based facial that uses patened technology that provides deep cleanse, exfoliation and glowing skin within an hour. The terms "Classic HydraFacial" and "Signature HydraFacial" are often used interchangeably, and different spas or clinics may use varying names for similar treatments. However, in general, the "Signature" or "Classic" designation typically refers to the standard or foundational HydraFacial treatment. At VIVA our £99 Hydrafacial offer is the Classic or Signature Hydrafacial that includes all the standard steps of the treatment with more added additional steps that help improve the experience and give you better results. All HydraFacials at VIVA include the Deluxe verison of the hydrafacial.
Steps for Deluxe HydraFacial:
Below are the steps for Deluxe HydraFacial, this is the most indepth luxury HydraFacial available. To customise this treatment further you an add boosters tailored to your skin type and needs for only £35 extra.
1.Consultation:
A skincare professional will assess your skin and discuss your concerns, goals, and any specific areas you'd like to target during the Deluxe HydraFacial.
2.Cleansing:
The treatment typically starts with a thorough cleansing to remove makeup, dirt, and oil from the skin surface.
3.Exfoliation:
A gentle exfoliation step helps remove dead skin cells, preparing the skin for subsequent treatments.
4.Acid Peel:
A mild acid peel, often containing ingredients like glycolic and salicylic acids, is applied to further exfoliate and enhance skin texture.
5.Extraction:
The HydraFacial device is used to perform a vacuum-powered extraction, helping to remove impurities and unclog pores.
6.Boosters and Enhancements:
Specialized serums, boosters, or enhancements are applied to address specific skin concerns, such as hydration, brightening, or anti-aging.
7.LED Light Therapy:
LED therapy may be incorporated to stimulate collagen production, reduce inflammation, and promote overall skin health.
8.Lymphatic Drainage Massage:
A lymphatic drainage massage may be performed to improve circulation, reduce puffiness, and aid in detoxification.
9.Specialized Masks:
Application of specialized masks designed to target specific skin concerns, such as hydration, firming, or brightening.
10.Extended Massage:
A longer facial massage or additional massage techniques may be included for relaxation and improved circulation.
11.Final Serums and Moisturizer:
The treatment concludes with the application of final serums, moisturizers, and sun protection to lock in hydration and protect the skin.
WHO CAN HAVE  A HYDRAFACIAL?
HydraFacial is known for being customizable to meet individual skincare needs, and it is suitable for a wide range of skin types. It is often chosen for its ability to address issues such as fine lines and wrinkles, uneven skin tone, enlarged pores, oily or congested skin, and dryness.
HOW LONG IS A HYDRAFACIAL?
One of the key benefits of HydraFacial is that it is a relatively quick procedure with minimal downtime, making it a popular choice for individuals seeking a rejuvenating treatment without significant recovery time. The treatment including consultation is 1 hour, making it a great afterwork treat or lunchtime facial.
HYDRAFACIAL BENEFITS
So, getting facials is like giving your skin a VIP treatment. Check out these awesome perks:
Deep Cleanse:
Picture this – facials giving your skin a super-duper clean-up, wiping away all the icky stuff like dirt and oil. Sayonara, pesky breakouts!
Glow Up with Exfoliation:
Facials also give your skin a little dance party by scrubbing away dead cells. Result? Smoother skin, less dullness, and a glow that says, "I woke up like this!"
Thirst-Quenching Hydration:
For those days when your skin is as thirsty as you after a workout, facials come to the rescue. Think masks and moisturizers bringing your skin back to life. Perfect for those with dry parched skin.
Circulation Boost:
Facial massages are like a shot of espresso for your face, waking up those skin cells with a boost in blood flow. Healthy, happy skin, here we come.
Anti-Aging Magic:
Yes, facials can work some serious magic against those fine lines and wrinkles. Anti-aging serums, masks, and fancy massages – turn back time with happy healthy radiant skin.
Chill Time for Stress-Free Skin:
Who knew pampering could be so good for your skin? Facials not only chill you out but also keep stress from messing with your skin. Stress-free = Happy Skin.
Targeted Solutions for Your Skin BFF:
Got specific skin issues? No worries! Facials can be customized just for you – whether it's battling acne, saying bye to dark spots, or calming down sensitive skin. Your skin, your rules!
Skincare Products' Superpower:
Facials prep your skin, making it a superhero at absorbing all the good stuff from your skincare products. That means those serums and creams work their magic even better.
Detox Vibes:
Imagine facials as a spa day for your pores. Masks and steam help kick out the bad stuff, leaving your skin detoxified and refreshed.
Expert Skin Check-Up:
And the best part? During a facial, the skincare pros give your skin a check-up. They spill the beans on what your skin needs and recommend the perfect products for your at-home spa routine.
So, there you have it – facials are like a party for your skin, giving it the love and attention it totally deserves!
HYDRAFACIAL NEAR ME PRICES
Are you looking for the best price near you to experience HydraFacial? Look no further than VIVA! We have over 500 happy patient reivews on google and offer this incredible HydraFacial treatment for only £99 Thursdays and Fridays at all locations. Our team is ready to take your booking, so call us at 02037332199 or book online today.
HYDRAFACIAL BEST PRICE REVIEWS:
"I just had a hydrafacial and omg it's a game changer. My skin is so glow my and soft, my practitioner Danika was so knowledgeable- the salon is stunning from the moment you lay eyes upon it and it only gets better the further in you go" – Lois
"100% recommend, the free consultation is very honest and useful. Ended up doing a mini hydrafacial, amazing value for money, this is my second one in a month! – also got the skin care products they recommended. Cut my current routine by half and I'm so much happier x" – Patricia
HYDRAFACIAL NEAR ME LOCATIONS:
38 High Street Tunbridge Wells TN1 1XF