We love performing lip filler treatments at our Chelsea and Tunbridge Wells clinics. This non-surgical procedure involves injecting dermal filler containing hyaluronic acid into the lips to add fullness, definition and shape. Our practitioners are experienced medical professionals who perform dermal filler treatments on a daily basis. However, we understand that choosing an injector with the relevant experience and credentials can feel like a minefield. As a result, many potential patients are stuck wondering who performs lip filler treatments and who they should choose to go to.
What are lip fillers?
Lip filler treatments inject a smooth, gel-like substance into the lips to create volume and fullness. We use Juvederm products, which contain hyaluronic acid. This substance, naturally found in the body, helps lock in moisture for a natural-looking pout. Dermal filler results are temporary, and we generally expect lip filler to last 6-9 months. Therefore, attending regular maintenance sessions is essential for long-lasting results.
Who does lip fillers?
Currently, there is very little legislation stopping almost anyone from performing dermal filler treatments. Only in 2021 did it become a criminal offence to administer fillers and anti-wrinkle treatments to those under 18.
Earlier this year, an amendment to the Health and Care Bill means that a new licensing regime will be introduced shortly. This critical step safeguards patients from unregulated, unsafe practices when choosing a dermal filler injector.
How to choose a dermal filler practitioner:
With regulation still in the early stages, as a patient, you must choose your practitioner carefully.
Ensure your injector is a qualified medical professional and has the necessary insurance.
Ensure they have experience performing the particular treatment you want.
Ask to see the before and after.
Check out their reviews.
Make sure you have a consultation – use this opportunity to ask questions and learn more about the procedure.
What to expect from a lip filler consultation:
Consultations are an essential step in the treatment process. They allow time for your practitioner to assess your face and to ask what you want to achieve. It's also your chance to ask questions and decide whether treatment is right for you. We carry out a full-face consultation with every patient at VIVA Skin Clinics. This is because we want to show you the procedures that will achieve your best aesthetic results. We are all about natural outcomes and boosting confidence at VIVA, so treatment plans will always be designed to help you look and feel the best version of yourself. Your practitioner will explain your treatment plan 1-1 and give you a copy to take home if you want time to consider your options.
At the end of your consultation, you will go through your treatment plan together and decide which treatments work best for you. We give you the tools to understand what will achieve your best aesthetic results. Still, we understand that budget, nerves, and uncertainty can affect your final treatment decision. Therefore, it's essential to understand that part of the consultation process is ensuring treatment is right for you –we won't go ahead with a procedure if we feel it isn't in your best interests.
What to expect from a lip filler treatment:
Lip fillers are a relatively quick procedure, with the appointment lasting around 30 minutes. First and foremost, you will need to confirm we have all your correct medical details, and you will be asked to sign a dermal filler consent form. Next, numbing cream is applied before every treatment for your comfort. This can take around 10 minutes to take effect before dermal filler is injected into the lips to add volume, structure, definition and shape. You will see results immediately, but it is normal to experience some bruising, redness and swelling after treatment. We ask that all patients allow two weeks for these effects to subside entirely.
What are the risks associated with lip fillers? First, when considering a procedure, it's important to remember that these are injectables. Accurate product placement is paramount, so it needs to be carried out by a skilled medical professional. If you choose your injector wisely, the risks associated with treatment are reduced considerably. Common side effects include redness, swelling, bruising and tenderness. These reactions are normal following treatment injections.
More severe issues include:
Dermal filler migration (product moving away from the area intended for treatment).
A lumpy appearance underneath the skin.
Infection.
Vascular occlusion can lead to skin necrosis.
These scenarios are scarce and usually result from inexperience, poor product placement, incorrect or low-quality products, overfilling or injecting into a blood vessel. To reduce the chances of this happening, choose a doctor or nurse injector with experience. Ensure you feel comfortable and confident with them before committing to a procedure.
The VIVA Skin Clinics clinical team is made up of medical experts who have an abundance of experience under their belts. At the centre of everything we do is confidence. Our daily mission is to boost patients' confidence and help them feel happy and empowered in their skin. We are not about making significant, drastic changes but about achieving beautiful, natural-looking results. Safety is king here at VIVA, and these are the key steps we take:
We use the highest quality products from the Juvederm Vycross range.
We inject the correct products into the right areas.
We use advanced injecting techniques.
We conduct full consultations with every one of our patients.
We never overfill.
We continue to train to keep up to date with the latest treatments, techniques and devices.
What do results look like?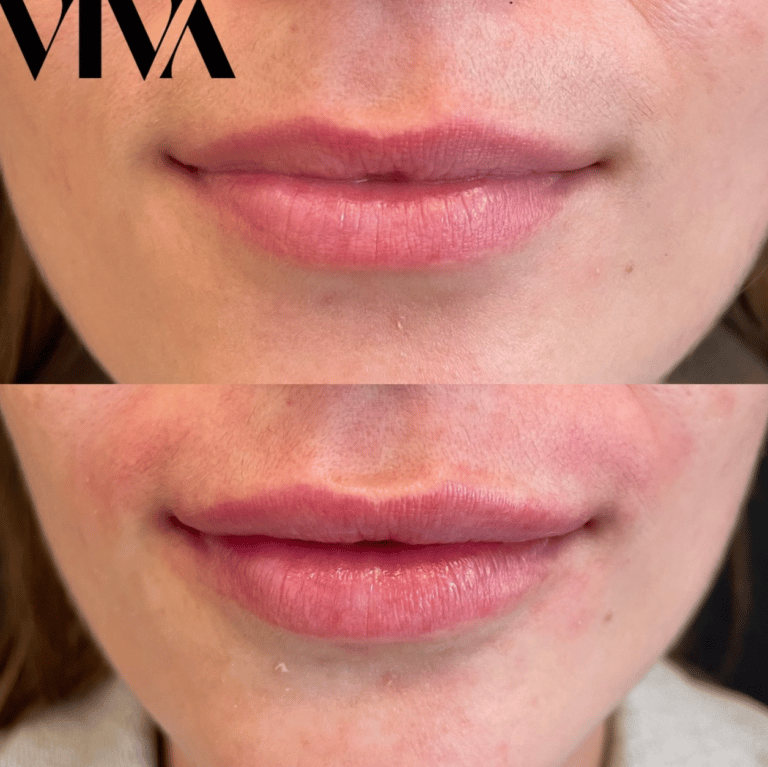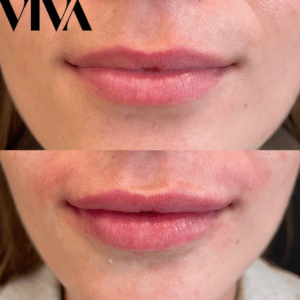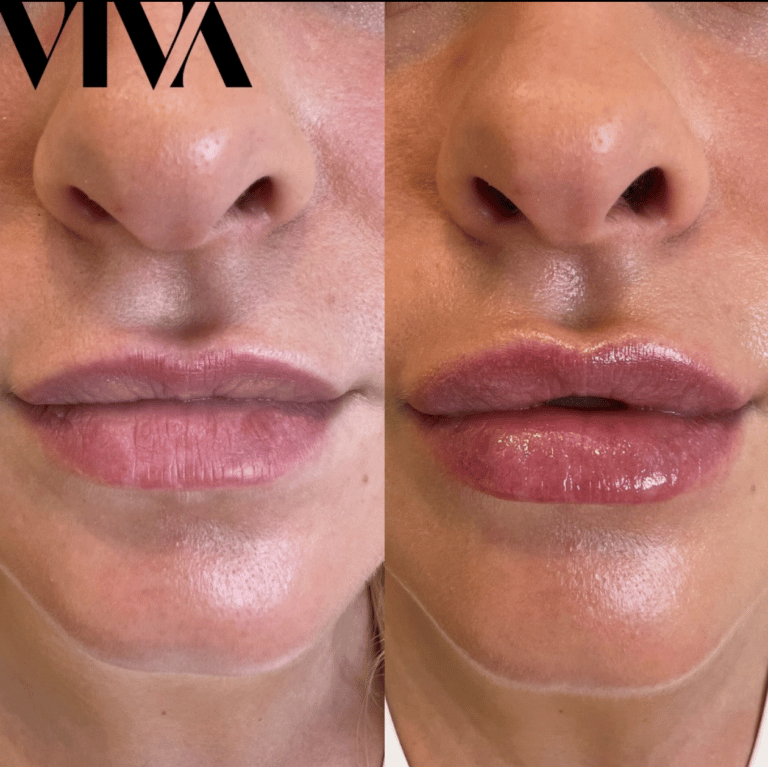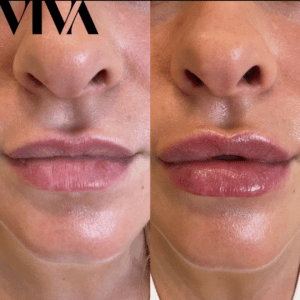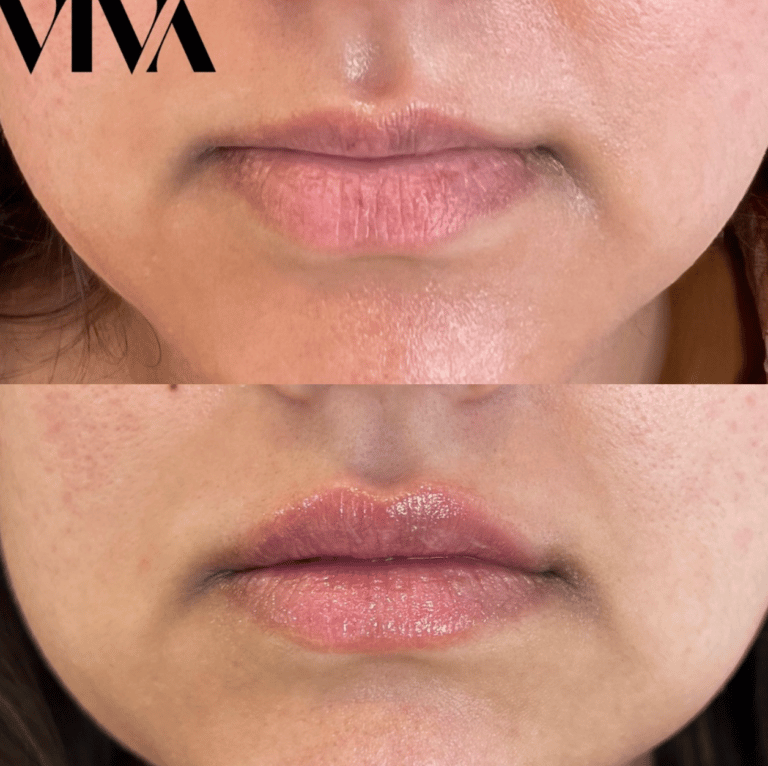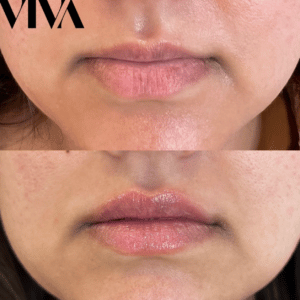 Want to find out more? Why not read our 'How to Spot a Good Aesthetic Injector' next?
Ready to book your lip filler appointment? If you are prepared to take the first step in your treatment journey, we would love to welcome you to one of our VIVA clinics for a FREE consultation. Book yours online today.