MEN'S  TEAR TROUGH TREATMENT LONDON
Do you feel like you are looking tired when you're not? You're not alone. This is a common sign of aging that is treatable with dermal fillers at VIVA Skin clinics London. The tear trough area refers to the indentation or hollow space between the lower eyelid and the upper cheek. As we age, this area can become more prominent, resulting in a tired or sunken appearance. Men's dermal filler tear trough treatment is a cosmetic procedure designed to address this concern in men.
Dermal fillers are commonly used in tear trough treatment. These fillers are typically composed of hyaluronic acid, a substance naturally found in the body that helps maintain volume and hydration in the skin. By injecting small amounts of dermal filler into the tear trough area, the hollow or sunken appearance can be filled in, creating a smoother and more youthful look.
MEN'S TEAR TROUGH DERMAL FILLER PROCEDURE
The procedure is performed by a qualified healthcare professional, such as a docotr, nurse or a cosmetic surgeon. Prior to the treatment, a consultation is usually conducted to assess the individual's needs and determine the most appropriate approach. The treatment itself involves injecting the dermal filler using a fine needle or cannula, and the process typically takes around 30 minutes to an hour.
Men's tear trough treatment with dermal fillers can provide various benefits, including:
Reducing the appearance of dark circles: The filler can help diminish the shadowing effect that contributes to the appearance of dark circles under the eyes.
Smoothing out hollows: By adding volume to the tear trough area, the procedure can fill in hollows and create a more youthful and refreshed look.
Softening under-eye bags: Dermal fillers can help minimize the appearance of under-eye bags by improving the overall contour and blending the transition between the lower eyelid and the upper cheek.
MENS TEAR TROUGH BEFORE AND AFTER LONDON
The results of tear trough treatment are typically noticeable immediately, although there may be some minor swelling or bruising initially. The effects can last anywhere from several months to over a year, depending on the specific filler used and individual factors.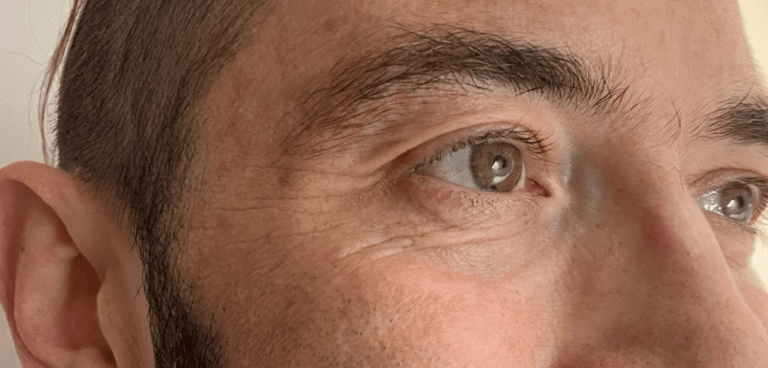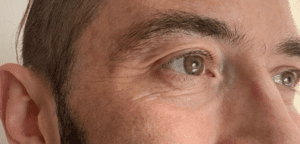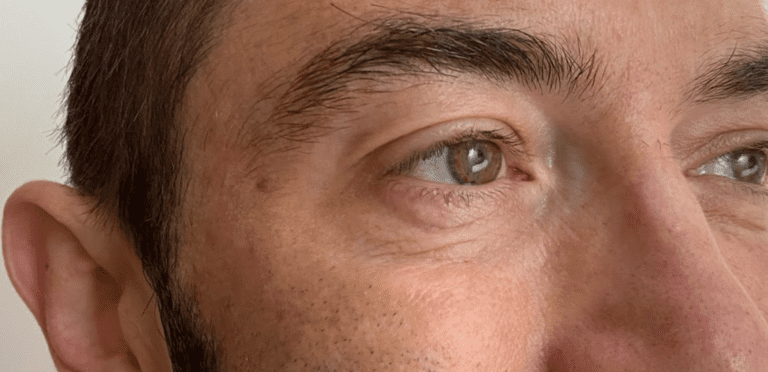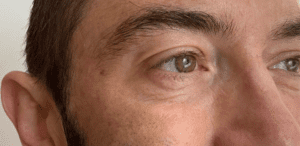 It's important to note that tear trough treatment should be performed by a skilled professional with experience in facial aesthetics. It's advisable to seek a consultation with a qualified healthcare provider to discuss your specific concerns and determine if this treatment is suitable for you.
HOW LONG DOES TEAR TROUGH FILLER FOR MEN LAST?
The longevity of tear trough treatments can vary depending on several factors, including the specific dermal filler used, an individual's metabolism, and lifestyle factors. On average, the effects of tear trough treatments with dermal fillers tend to last anywhere from six months to over a year.
Hyaluronic acid fillers, which are commonly used for tear trough treatments, are gradually broken down by the body over time. As a result, the initial volume and results achieved through the treatment gradually diminish. Factors such as the concentration of the filler, the depth of injection, and the individual's unique response to the filler can also influence how long the results last.
To maintain the desired results, some individuals opt for touch-up treatments or repeat injections as the effects of the initial treatment begin to fade. The frequency of touch-up treatments will depend on personal preference and individual needs.
VIVA SKIN CLINICS LONDON- THE BEST TEAR TROUGH FILLER CLINIC FOR MEN
At VIVA we specialise in tear trough filler and male full face masculination treatments. With over 10 years experience, premimum FDA dermal filler products and a holistic approach to the aging process, we offering natural discrete results that leave you looking your best. We offer free consultations and easy online booking. To book mens's tear trough filler you can call us at 02037332199 or book online today!
Our Men's Dermal Filler Clinic is located  on Kings Road in the heart of Chelsea. We are open 5 days a week with easy access via the district line. Local parking is available with Ringo.
Address: 558 Kings Road SW6 2DZ