What is a skin booster?
Skin boosters are essentially vitalizing dermal fillers that revitalize the skin, improving its appearance, texture and slows down the ageing process from within. The treatment involves hydrating microinjections of a soft, gel-like substance called Hyaluronic Acid (HA) into the skin, which improves the skin's elasticity, firmness and radiance.
At VIVA Skin Clinics, we offer the following skin booster treatments:
This treatment uses its 24-karat gold plated micro-needles – a patented system – to administer a cocktail of hyaluronic acid and wrinkle relaxer in micro doses to replenish and rejuvenate the surface of the skin. This treatment will improve the overall health of the skin, while the purity of the gold acts as a conductor so that you enjoy enhanced absorption of the ingredients to give a truly radiant result.
This is a miracle skin booster. Hailed as a bioremodeling innovation, Profhilo features the highest level of concentrated Hyaluronic Acid on the market. It stimulates the production of collagen and elastin, key proteins for full, smooth, wrinkle-free skin. Elastin fibres become more susceptible to wear-and-tear as we age and the production of collagen naturally slows down, so this simple procedure can not only help to slow down the signs of ageing, but help to protect against it too.
This is a stabilised hyaluronic acid injectable which offers dual-action results: intensely hydrating the skin from within while also stretching out and restructuring the most superficial wrinkles. We call this HYDROSTRETCH. This treatment noticeably improves elasticity, radiance and smoothness of the skin, while also stretching wrinkles for a more youthful appearance.
What do skin boosters do?
Skin boosters increase the levels of hyaluronic acid in the skin and also stimulates the production of collagen, which in turn improves fine lines and wrinkles, producing firmer skin. Skin boosters can be used to treat many different skin areas. The most common is the face, followed by the neck, décolletage and dorsum of the hands.
Here's the benefits of skin boosters:
Hydrates and conditions.
Plumps and smooths depressions in the skin.
Improves complexion tone and texture.
Improves the appearance of rough, dry skin.
Helps to smooth fine lines and wrinkles.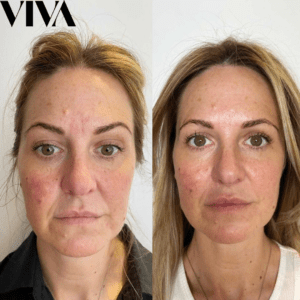 Do skin boosters work?
In short, yes! They work brilliantly to target dryness, roughness and fine lines and can considerably improve tone and texture.
How much are skin boosters?
At VIVA Skin Clinics our pricing for the following skin booster treatments are:
£350 per session
£900 for a course of 3 sessions
£600 2 x 2ml sessions (face)
£600 2 x 2ml sessions (neck)
£1150 2 x 4ml sessions (hands)
£1150 2 x 4ml sessions (decolletage)
£350 per session
Interested in booking in for a skin booster treatment? Click here.