LASER HAIR REMOVAL BIKINI KENT
Are you looking for the best bikini laser hair removal in Kent? VIVA Skin clinics is the place for laser hair removal located in Tunbridge Wells, Kent. With bikini laser hair removal, you can effortlessly remove the unwanted excess hair around your delicate bikini area while giving yourself freedom from the regular pain of traditional hair removal methods. Our laser hair removal treatment is in a luxury setting with professional and experienced laser technicians trained to the highest level by UK standards. Learn more about our bikini laser hair removal, how laser hair removal works and  how to book the best bikini laser hair removal in kent.
HOW DOES LASER HAIR REMOVAL WORK?
Laser hair removal uses a concentrated beam of light that targets pigments in hair follicles. The light energy is absorbed, which damages the follicle and reduces hair growth. At Viva Skin Clinics, we use the state-of-the-art and FDA approved Cynosure Elite + that utilities a ND- YAG and Alexandrite laser, which is  safe, and suitable for all skin types.
BIKINI LASER HAIR REMOVAL BEFORE AND AFTER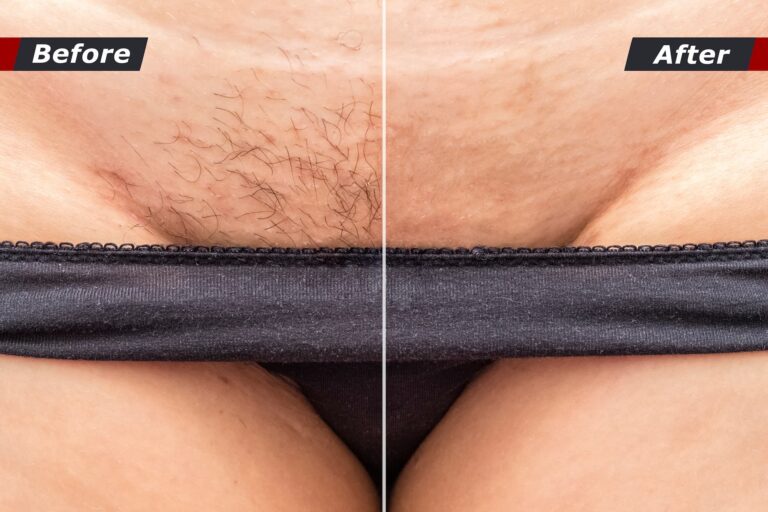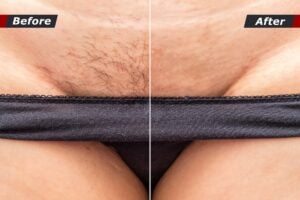 WHAT TO EXPECT AT YOUR BIKINI LASER HAIR REMOVAL APPOINTMENT
During your patch test and consultation, our trained clinicians will assess your skin and hair type, medical history, and any medications you're taking. They will also explain the treatment process, answer your questions, and give you a patch test to ensure that you're a suitable candidate. You will need to attend a patch test 48 hours before your first bikini laser hair removal treatment.
On the day of your treatment, you'll need to shave the areas you want to be treated and avoid using any products that could irritate your skin. The laser treatment itself takes approximately 15-30mminutes, and you'll experience a warm sensation on your skin. After the treatment, we recommend using a cooling gel such as aloe to soothe your skin and prevent any discomfort. Your therapist at VIVA Skin clinics Kent will apply a cool water spray and aloe vera gel to help with any discomfort.
HOW MANY SESSIONS WILL I NEED FOR MY BIKINI?
The number of sessions you need depends on your skin and hair type, the area being treated, and your desired results. Generally, we recommend a course of 4-6 sessions, spaced 4-6 weeks apart. This allows your hair growth cycle to complete, and the laser can target the hair follicles at their most active stage.
BENEFITS OF LASER HAIR REMOVAL VIVA SKIN CLINICS KENT
Laser hair removal offers several benefits compared to traditional hair removal methods. It is safe, non-invasive, and more comfortable than waxing or shaving. It also reduces hair growth, resulting in smoother, softer skin for longer periods. Moreover, it saves you time, money, and hassle in the long run, as you won't need to spend money on hair removal products or appointments.
LASER HAIR REMOVAL AFTERCARE
After the treatment, you may experience some redness, swelling, or sensitivity in the treated area, which is normal and should subside within a few hours. However, we recommend avoiding sun exposure, heat, or heavy exercise for at least 24 hours after the treatment to avoid any potential side effects.
Laser hair removal for bikini at Viva Skin Clinics in Kent is a safe, effective, and long-lasting solution for unwanted hair. It is a painless, non-invasive treatment that reduces hair growth, resulting in smoother, softer skin for longer periods. However, it's essential to follow the pre and post-treatment instructions to ensure you achieve the best results. So, book your consultation today, and say goodbye to those pesky hairs that have been bugging you for too long!
VIVA SKIN CLINICS LASER HAIR REMOVAL KENT
38 High Street Tunbridge Wells TN1 1XF