LIP BLUSH TREATMENT LONDON
Are you looking lip blushing in London? . Look no further than VIVA Skin clinics to achieve your perfect pout and lip shade with our expert tattoo and SPMU artist for natural luscious looking lips. Lip blush is the perfect treatment to enhance your lip line, shade in a subtle hue or restore lip pigment from lip filler. Learn more about lip blush treatment, how much is cost, what lip blush is and how to achieve fuller lips with lip blush.
WHAT IS LIP BLUSH?
Lip blush or lip blushing is a cosmetic procedure that enhances the color and shape of the lips through the application of semi-permanent pigment. It is a form of permanent makeup that offers a natural-looking, subtly enhanced lip appearance. Lip blush can be an ideal option for individuals looking to add definition, symmetry, and color to their lips without the hassle of daily lipstick or lip liner application.
Lip blush can help with many concerns such as including enhancing the natural lip color, correcting asymmetry, adding definition to the lip border, and making the lips appear fuller. The longevity of the results can vary from person to person but typically lasts for several months to a few years, after which you may need touch-ups to maintain the desired look.
LIP BLUSH BEFORE AND AFTER PHOTOS LONDON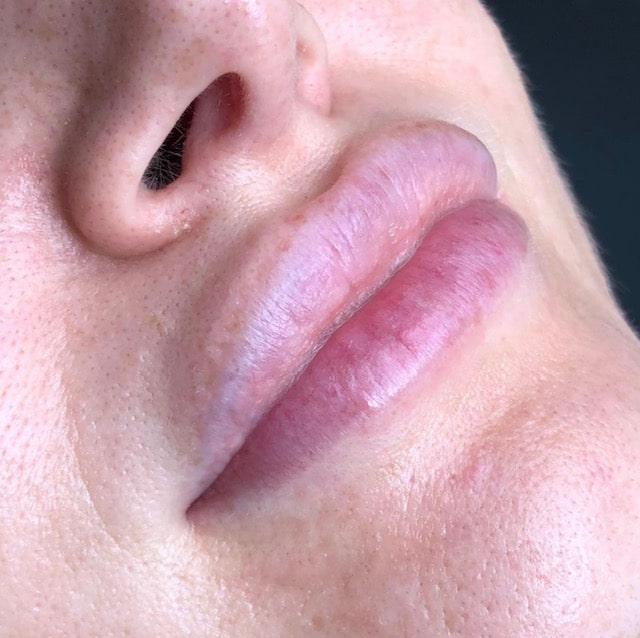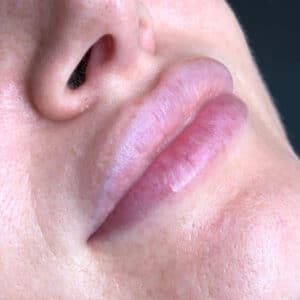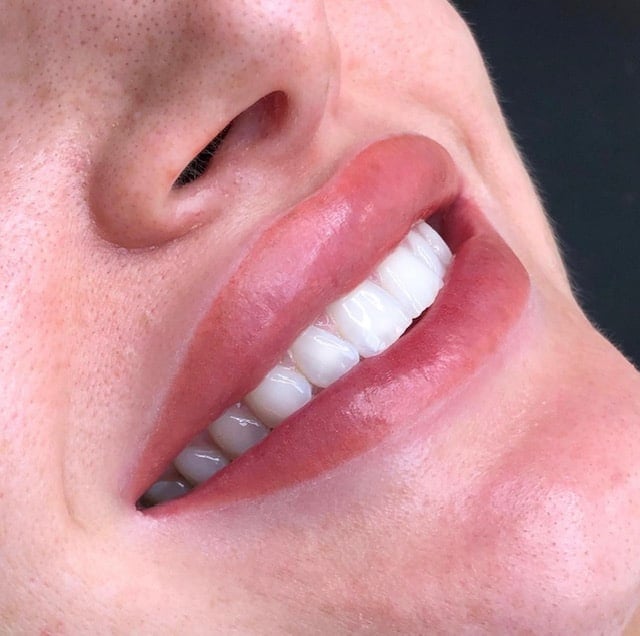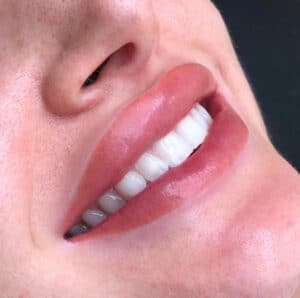 LIP BLUSH PROCEDURE
The process begins with a consultation, during the consultation, you can discuss your desired lip color and shape, as well as any concerns or questions you may have.
We then apply numbing cream before the procedure to the lips to help minimize discomfort during the treatment.
While you are numbing the technician will help you choose a pigment color that suits your skin tone and desired lip shade. The pigment is then mixed to achieve the desired color.
Next is the lip blush procedure using a specialized tattooing machine or hand tool,  the tattoo artist will carefully deposit the pigment into the upper layer of the skin on the lips. This process is done with precision to create a natural and even appearance.
After the treatment, the lips may appear more intense in color for a few days due to initial swelling and pigment oxidation. Over the next week or two, the color typically fades to its desired shade, resulting in a subtle and natural look.
Touch-Ups
Depending on the individual and their preferences, a touch-up session may be scheduled after a few weeks to perfect the lip color and shape. Additionally, be aware that the procedure is not entirely permanent, so the color will gradually fade over time.
ABOUT VIVA SKIN CLINICS LONDON
VIVA Skin clinics was founded in 2012 by Dr. Rupert Critchley with the aim to improve patient lives thru confidence enhancing treatments. For over 10 years VIVA Skin clinics has injected, perfected and improved the lives of our patients in the heart of London at our first clinic on Kings Road. We have over 400 5 star reviews from happy patients who trust VIVA for their skin and injectable procedures.
LIP BLUSH LONDON LOCATION