PRP LONDON HAIR
Are you looking for PRP in London to address thinning hair? Hair loss can effect both men and women at any age- with PRP or Platelet-Rich Plasma  it is possible to regain and regrow thinning patches of hair for improved confidence and aesthetics. PRP is an excellent option for patients that prefer non-surgical treatments with minimal downtime and long term results. Learn more about PRP London with VIVA Skin Clinics.
WHAT IS PRP?
Platelet-rich plasma (PRP) is a regenerative treatment produced from a person's own blood. It is a treatment method that involves drawing a small amount of a patient's blood, processing it in a centrifuge to concentrate the platelets, and then injecting the concentrated plasma back into the body. It contains a high concentration of platelets, which play a crucial role  stimulating follicular and perifollicular angiogenesis or hair growth.For this reason, PRP injections are administered using a sterile syringe to areas that have experienced significant hair loss.
PRP HAIR TREATMENT BEFORE AND AFTER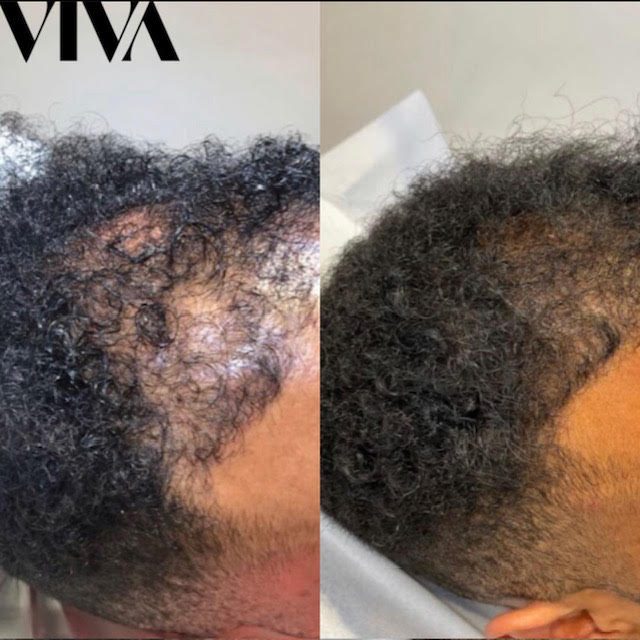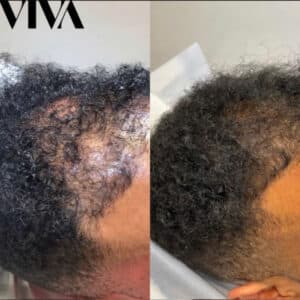 HOW DOES PRP WORK?
Platelet-rich plasma (PRP) contains a high concentration of platelets which increase and improve stimulating hair growth in the growth stage of hair known as angiogenesis. Because hair has three different hair growth cycles, it is important to have a series of PRP treatments for best results depending on the severity of hair loss. The activation of the concentrated platelets in platelet-rich plasma causes growth factors to release stimulating and increasing the number of reparative cells your body produces.
WHAT DOES PRP PROCEDURE INVOLVE?
PRP procedure requires the patients blood to be drawn and placed in a centrifuge to spin in order for the platelet's to seperate – the procedure requires two centrifuge steps in order to prepare the solution for injection. The first centrifugation is use to separate red blood cells (RBC) and is followed by a second centrifugation to concentrate platelets to prepare for final injection. The area is then preped, cleaned and disinfected for injections. Your doctor or nurse will then inject into the hair line and scalp covering the full area with PRP injections.
WHAT IS THE DOWNTIME FOR PRP?
After a Platelet-Rich Plasma (PRP) session, there is no requirement for recovery time. You can promptly resume your daily routine without any delay. PRP treatment typically lasts under 10 minutes, and appointments are kept to a 30-minute duration. The procedure involves injecting PRP into the scalp using small needles, resulting in minimal discomfort.
WHAT IS THE AFTERCARE?
After PRP you should avoid washing your hair for a minimum of 24 hours. Avoid heavy sweating, gyms, steam rooms and saunas for 24 hours.
HOW MANY SESSIONS OF PRP WILL I NEED?
How many sessions of PRP required will depend on the severity of hair loss. We offer 1 session, 3 sessions and 6 sessions to help manage budget and a range of results. Attending a free consultation your VIVA doctor or nurse will be able to advise you on the number of sessions required.
WHAT IS THE COST OF PRP HAIR TREAMENT IN LONDON?
Our full pricelist includes all PRP packages and individual treatments.
1 Session £600
3 Sessions £1500
6 Sessions £2300
WHO IS SUITABLE FOR THE PRP HAIR TREATMENT?
PRP is an excellent option for men and women who have experienced hair thinning, hair loss, pattern baldness or for hair transplant recovery.
FREQUENTLY ASKED QUESTIONS ABOUT PRP:
Q1: What exactly is Platelet-Rich Plasma (PRP)?
A1: PRP is a regenerative treatment harnessed from the patient's own blood. In a simple process, a small blood sample is drawn, spun in a centrifuge to concentrate platelets, and then reintroduced into the body. This high-platelet concentration plays a pivotal role in stimulating hair growth.
Q2: How does PRP work to address hair loss?
A2: PRP contains a robust concentration of platelets that elevate and invigorate the hair growth stage, known as angiogenesis. To optimize results based on varying hair growth cycles, a series of PRP treatments are recommended, especially for individuals with different levels of hair loss.
Q3: What does the PRP procedure involve?
A3: The PRP procedure begins with drawing the patient's blood, which undergoes a two-step centrifugation process to isolate and concentrate platelets. The treated area is then meticulously prepped, cleaned, and disinfected before administering PRP injections into the hairline and scalp.
Q4: What is the downtime for PRP?
A4: After a PRP session, there is no need for recovery time. The procedure, lasting under 10 minutes, ensures minimal disruption to your daily routine. Using small needles for injection into the scalp may cause minimal discomfort.
Q5: What is the aftercare for PRP?
A5: Post-PRP, it's advisable to refrain from washing your hair for a minimum of 24 hours. Additionally, it's recommended to avoid activities inducing heavy sweating, such as gyms, steam rooms, and saunas, during this period.
Q6: How many PRP sessions will I need?
A6: The number of PRP sessions required varies according to the severity of hair loss. Choose from 1, 3, or 6 sessions, allowing flexibility for budget considerations. Your VIVA doctor or nurse, during a free consultation, will guide you on the optimal number of sessions.
THE BEST PRP HAIR TREATMENT
VIVA Skin clinic offers convenient discrete location on Kings Road in London, offering PRP with our medical team of doctors and nurses. We offer free PRP consultations and information with no booking fees. You can book your complimentary PRP consultation here or by calling us at 02037332199.
OUR REVIEWS
"Astounding results – top notch treatments for men and highly commendable. Rupert is v knowledgeable in what he does and the front of house team are friendly also" – Tc H
"Lovely welcome into the clinic with such friendly staff. Lovely studio studio and nicely furnished. Really informative questionnaires and no question was too silly to ask. " – Jodie Lleweellyn
PRP HAIR LONDON LOCATION: