BIKINI LASER HAIR REMOVAL LONDON
Tired of ingrown hairs and painful waxing? Laser hair removal may be just what you need! And if you're in London, bikini laser hair removal is one of the most popular treatments. This revolutionary procedure allows women to enjoy smooth skin without worrying about pesky stubble or embarrassing razor bumps – all from the comfort and convenience of a professional clinic in the heart of Chelsea, London. In this blog post, we will discuss everything from how laser hair removal works and its benefits, to where to find the best clinics for bikini laser hair removal in London. Read on to learn more!
BEFORE AND AFTER BIKINI LASER HAIR REMOVAL PHOTO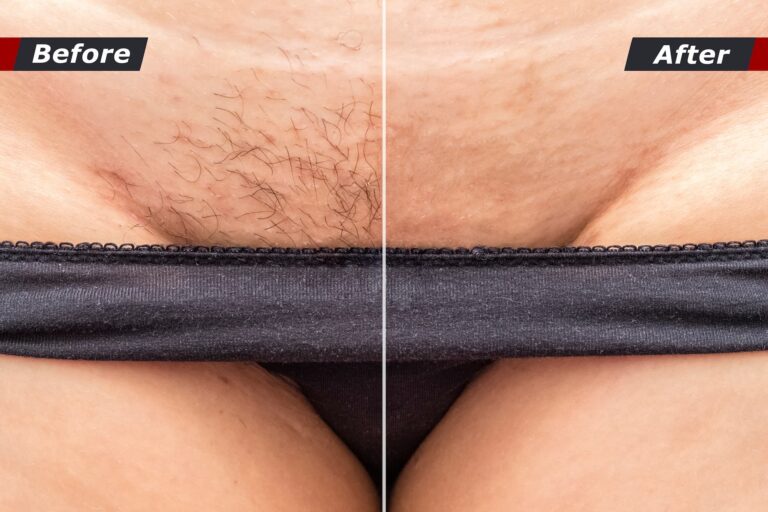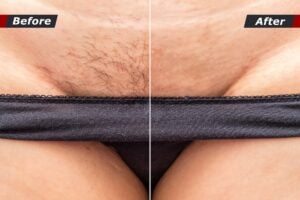 WHAT IS LASER HAIR REMOVAL FOR THE BIKINI?
Laser hair removal is a semi-permanent method of hair removal utilising lasers, specifically ND- YAG and Alexandrite, that are attracted to melanin in the hair follicle. The laser heats the hair follicle causing the follicle to die- thus reducing unwanted hair growth along the bikini line.
WHO IS SUITABLE FOR BIKINI LINE LASER HAIR REMOVAL?
Bikini line laser hair removal is a popular choice for individuals who want to reduce or eliminate unwanted hair in the bikini area. It is suitable for many people who may want to holiday without the need for shaving, dislike the pain that comes with hot wax or those who have dark thick hair with ingrown hairs from shaving. Laser hair removal is an excellent choice for many reasons- each individual may have their own personal cultrure preference with body hair.
WHAT TO CONSIDER FOR BIKINI LINE LASER HAIR REMOVAL
Before having bikini line laser hair removal its important to consider many factors to ensure a safe and effective treatment- below are our top 9 laser hair removal tips when considering if laser hair removal is right for you:
1.Skin and Hair Color: Laser hair removal is most effective for individuals with lighter skin and darker hair, as the laser specifically targets the pigment (melanin) in the hair. People with light hair or dark skin may not experience the same level of effectiveness because the laser may not differentiate between the hair and skin pigments.
2.Hair Thickness: Coarse, thick hair responds best to laser hair removal. Fine, thin hair may have a lesser response to the treatment.
3.Pain Tolerance: Laser hair removal may cause discomfort or a snapping/stinging sensation. Some individuals tolerate this well, while others may find it uncomfortable.
4.Commitment to Multiple Sessions: Optimal results from laser hair removal typically require multiple sessions spaced several weeks apart. It's crucial to commit to the recommended number of sessions.
5.Health Considerations: Prior to undergoing laser hair removal, consult with a healthcare provider or dermatologist if you have any skin conditions, medical conditions, or are taking medications that might impact the safety or effectiveness of the treatment.
6.Sun Exposure: It's important to avoid excessive sun exposure before and after laser hair removal to minimize the risk of pigmentation changes and burns, as tanned skin increases the likelihood of adverse effects. You must wait a minimum 4 weeks after sun exposure for an laser hair removal for the bikini line.
7.Cost and Time Commitment: Keep in mind that laser hair removal can be costly, and both the financial and time commitments for multiple sessions should be considered.
8.Realistic Expectations: Understand that laser hair removal typically results in hair reduction rather than permanent removal. While many people experience long-term hair reduction, some may require maintenance sessions to keep the area hair-free.
9.Consultation: It is advisable to schedule a consultation with a licensed and experienced practitioner or dermatologist to assess your suitability for bikini line laser hair removal and discuss your goals and expectations.
BIKINI LINE LASER HAIR REMOVAL COST
Bikini laser hair removal starts at £45 for a single session or 3 sessions for £108. We offer free patch tests and consultations to ensure results and safety for each patient.  On average london clinics charge in the range £35-£85 for laser hair removal in the bikini line.
HOW TO PREPARE FOR BIKINI LASER HAIR REMOVAL
Preparing for your bikini laser hair removal treatment is essential for both safety and results. Below are our top tips on how to prepare for your laser hair removal appointment:
• Schedule a consultation with a qualified laser technician: this will enable the technician to assess hair color, skin type, and density of hair for customized treatment
• Shave the area prior to treatment: this reduces the amount of hair follicles that are targeted by the laser treatments, allowing for more effective results
• Avoid waxing or tweezing for 4-6 weeks prior to treatment: this allows enough time for hair follicles to achieve their desired growth phase, which is necessary for good results
• Use sunscreen before and after each appointment: exposure to UV rays can hinder the effectiveness of laser treatments
LASER HAIR REMOVAL LONDON REVIEWS
"My experience at Viva skin clinics was flawless and I highly recommend them. I had a great first consultation for laser hair removal today – it was so in-depth and didn't feel rushed and just another customer. They really care and took their time everything. You can't beat the quality or the price – plus it's gorgeous. Will be back thank you!" – Marisa Thomas
BIKIN LINE LASER HAIR REMOVAL LONDON
VIVA SKIN CLINICS located at 558 Kings road London is a 5 minute walk to Fulham Broadway station, conveniently located on the district line connecting to most major tube stations in London. Try our bikini line laser hair removal in our london clinic by clicking book now or by calling us at 02037332199.
BIKINI LINE LASER HAIR REMOVAL LOCATION: