BEST LASER HAIR REMOVAL LONDON
Are you looking for fuss free and hair free skin with laser hair removal in London? At VIVA we offer the best in technique and technology to banish razor blemishes for good. Our first in class laser hair removal harnesses the power of NDYAG and ALEXANDRITE lasers to ensure safe, quality results safe for all skin tones. Discover what makes VIVA Skin clinics the best choice in hair free skin in London with our free patch test and laser consultations- enjoy hair free skin from £45. 
HOW LASER HAIR REMOVAL WORKS
Laser hair removal uses concentrated light energy to target the melanin in hair follicles. The heat generated damages the follicles, slowing future hair growth. It's important to note that laser hair removal is most effective on dark hair and lighter skin tones however our technology using FDA approved Cynosure Elite+ allows safe treatment of all skin colors and types. For best results a series of laser hair removal is recommended to treat unwanted hair at all three cycles of hair growth, this is why your therapist may recommend a series or package for you to achieve your desired goals.
THE BEST LASER HAIR REMOVAL TREATMENT
There are many types of treatments that offer reduced hair growth targeting melanin to achive smoother skin, however, there are differences between choosing right treatment for you. At VIVA we use ND YAG and ALEXANDRITE for laser hair removal for its safety and for its results. Many clinics in the UK use IPL for hair reduction which can be less effective and more costly as IPL requires more sessions. Additionally IPL only treats fair skin types with dark hair and can be unsafe for darker skin tones.
HOW MANY SESSIONS OF LASER HAIR REMOVAL  DO I NEED?
How many seessions you will need to get the best results deends on many factors such as the thickness and darkness of the hair, regular appointment attendance and good at home aftercare. Many patients find they need 10 sessions to start their laser hair removal journey with top up maintenence yearly. Reduce unwanted hair by 90% with laser hair removal.
LASER HAIR REMOVAL PRICING
We offer laser for the affordable prices of 3 sessions from just £108,however many clinics charge much higher fees and costs for laser hair removal- and we want to change that.  The cost to wax monthly per year is on average £400 – compared to a permanent solution for bikini hair for £300 at 10 sessions at VIVA making laser much more affordable with less time spent shaving or booking messy wax appointments- At VIVA we believe pricing should be transparent and affordable in a luxury environment, we call it micro luxury.
WHY VIVA SKIN CLINICS LONDON
12+ years of experience with highly trained team.
Long appointment times- we dont rush you in and out like other clinics.
Suitabe for all skin types and colors.
Results in 6-8 sessions.

Free Consultations and Patch Test.

Dr. Led Clinic.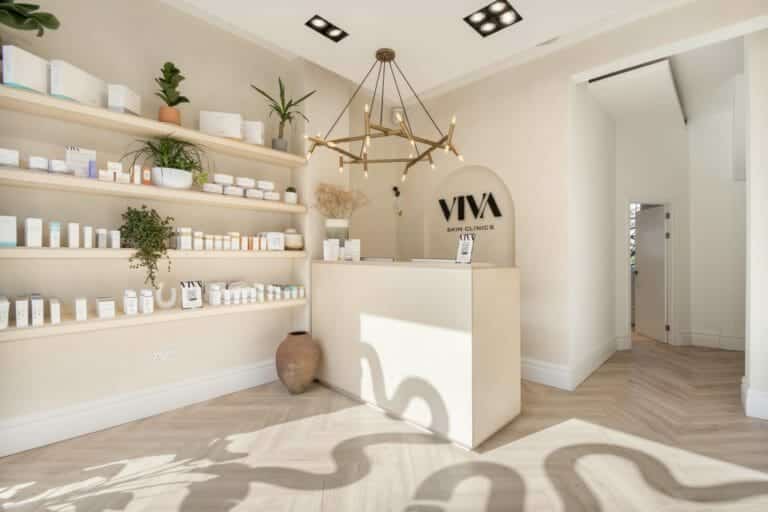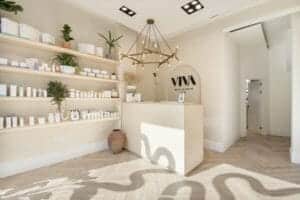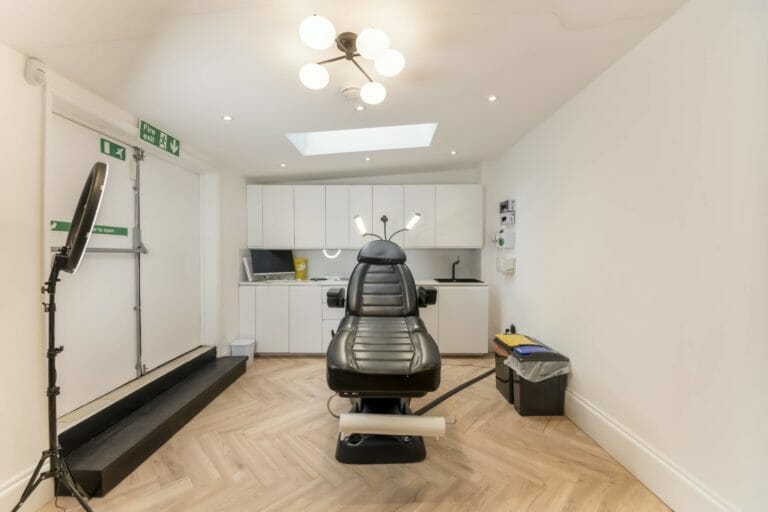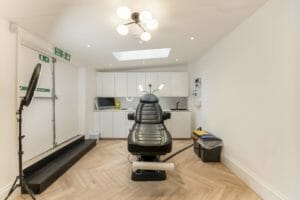 THE LASER HAIR REMOVAL PROCESS
It can be daunting to get started on your laser hair removal journey- but at VIVA we have made the booking process and laser hair removal treatments easy to book, attend and pay. Learn below the steps to the process to prepare for laser hair removal in London.
Attend free consultation at VIVA. During the laser hair removal consultation your therapist will review your hair thickness, color and medical history to determine if you are a good candidate for laser hair removal. This step is essential as pre-screening medical history as well as a patch test is required before undertaking laser hair removal treatment. Your therapist will perform a patch test to test out the laser settings to ensure a safe and comfortable treatment for you. During the patch test and consultation your therapist will recommend a number of sessions required to get your desired results.
Be sure to shave 24-48 hours before your first laser hair removal treatment.
Pick your number of sessions and book your first laser hair removal treatment. 
Attend first laser hair removal and enjoy hair free skin.
WHAT AREAS CAN I GET LASER HAIR REMOVAL?
Laser hair removal can be performed on various areas of the body, both large and small. The treatment is versatile and effective for reducing unwanted hair in many areas. Here are some common areas where laser hair removal can be done:
Face: This includes areas like the upper lip, chin, cheeks, and forehead. Laser hair removal on the face requires careful consideration of skin sensitivity and hair color.
Neck: Both the front and back of the neck can be treated to remove unwanted hair.
Underarms: Laser hair removal in the underarm area can provide long-lasting smoothness and reduce the need for constant shaving.
Arms: Both the forearms and upper arms can be treated, targeting hair on the surface and even the finer, lighter hairs.
Chest: Men often choose laser hair removal for the chest area to achieve a groomed and hair-free look.
Back: Both men and women may opt for laser hair removal on the back to eliminate unwanted hair growth.
Bikini Area: Laser hair removal in the bikini area offers more precision and comfort compared to traditional hair removal methods.
Legs: Treating the legs with laser hair removal can save a significant amount of time and effort in the long run.
Abdomen: This includes the upper and lower abdomen, and the treatment can be tailored to your preferences.
Hands and Fingers: Unwanted hair on the hands and fingers can also be effectively treated with laser hair removal.
Feet and Toes: Similar to the hands, laser hair removal can target unwanted hair on the feet and toes.
Buttocks: Laser hair removal for the buttocks area can provide a smoother appearance and enhance comfort.
Intimate Areas: Laser hair removal for the intimate areas, such as the Brazilian or Hollywood styles, is a popular choice for those seeking a clean and well-groomed look.
We also offer full body laser hair removal for those looking for mulitple areas of the body in the same session.  
IS LASER HAIR REMOVAL BEST FOR LIGHT SKIN?
No, we offer laser hair removal for all skin colors at VIVA. This is a common concern as many lasers in the past and IPL are not safe for all skin colors. By using a laser machine with two optional settings we can target different hair thickness and keep all skin colors safe. However, laser works by targeting dark hair on light skin so you may need more sessions if you have very light hair or darker skin.
CAN I GET LASER IN THE SUMMER?
Yes you can! The only contrainidication that may occur in the summer is tanning. This is because tanning can affect the safety and effectiveness of the procedure due to the interaction between the laser and the melanin in the skin. Here is why tanned skin should be avoided for laser hair removal:
Skin Sensitivity: Tanning, whether from natural sunlight, tanning beds, or self-tanning products, can increase the sensitivity of your skin. Laser treatments may already cause some discomfort or redness, and tanning can exacerbate these effects, potentially leading to more irritation or even mild burns.
Skin Pigmentation: Laser hair removal works by targeting the melanin in hair follicles. Darker skin caused by tanning increases the overall melanin content in your skin, making it more challenging for the laser to distinguish between the pigment in the hair and the pigment in the surrounding skin. This can lead to less effective treatments and an increased risk of side effects like burns or skin discoloration.
Uneven Results: If you tan between laser hair removal sessions, your skin tone might become uneven. This can make it difficult for the laser to consistently target the hair follicles, potentially leading to varied results and the need for additional sessions.If you want the best results we recommend temporarily elimnate toipical tanners and tanning in the area that you are lasering.
Post-Treatment Care: After laser hair removal, your skin can be sensitive and might require extra care. Tanning, whether natural or artificial, can hinder the healing process and increase the risk of complications.
To ensure the best possible results and minimize the risk of complications, we recommend avoiding tanning for at least four weeks before and after each laser hair removal session. If you're interested in laser hair removal, our licensed and experienced practitioners can provide personalized advice based on your skin type, hair color, and treatment goals during your free consulation and patch test.
WHAT OUR PATIENTS SAY
"I had my first cosmetic treatment here and I will always come back. It's hard to find a place, especially for your first time, that seems trustworthy, but the team at VIVA made the experience so pleasant. I had a free consultation and was walked through each step, and I've had amazing results. The staff are all so lovely and professional. Highly recommend!" -Jess
"I love visiting this place! The staff at the reception is always super nice, welcoming and helpful…Today I had my treatement with nurse Vikki for the first time and I loved the results, plus she is super nice, knowledgeable and professional." -Flavia
THE BEST LASER HAIR REMOVAL AT VIVA SKIN CLINICS
LASER HAIR REMOVAL NEAR ME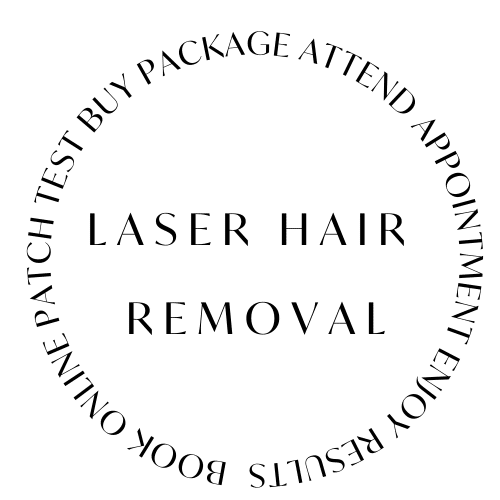 HOW TO BOOK LASER HAIR REMOVAL AT VIVA
Book Free Patch Test Online
Attend Patch Test and Laser Consultation, do not shave or wax prior to this appointment. Avoid sun exposure in the treatment area for two weeks prior.
Experience our lasers and meet your therapist- during this consulation we will guide you on what to expect, check your hair and recommend the best package for your desired results.
Purchase package online or at front desk after your patch test.
Book your first laser session- Enjoy treatment results.