LASER HAIR REMOVAL FOR MEN
Are you looking for laser hair removal in london that specialises in men's hair removal? Gone are the days when men had to constantly worry about their unruly body hair. In recent years, more and more men are opting for laser hair removal to get rid of unwanted hair from various parts of their bodies. Laser hair removal has become a popular choice for men as it offers a more permanent solution than other hair removal methods. With so many clinics offering laser hair removal services, finding the right one in London can be a daunting task. In this blog post, we'll take you through everything you need to know about men's laser hair removal in London and why VIVA Skin clinics is the best choice for men's laser hair removal in London.
LASER HAIR REMOVAL FOR MEN BEFORE AND AFTER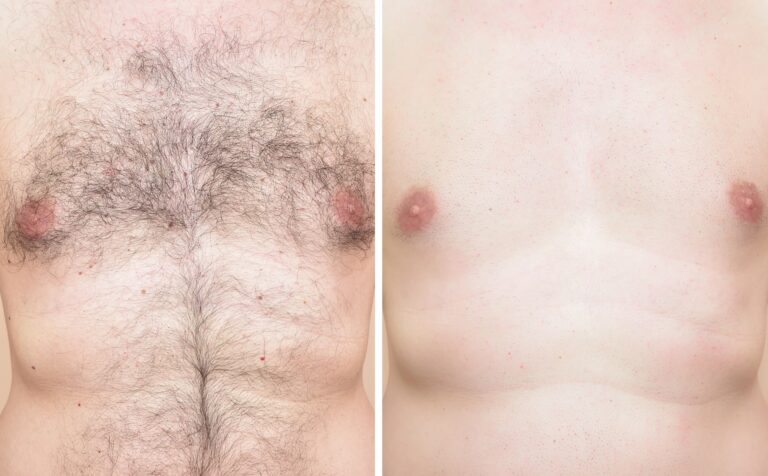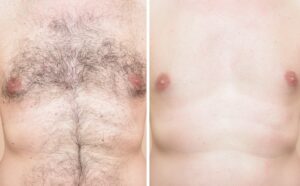 WHAT AREAS DOES LASER TREAT FOR MEN?
At VIVA we treat a wide range of body areas for mens laser hair removal. We treat most areas with the exception of genitals, bum, nostrils and inside the ears. The areas we treat for laser hair removal in our London clinic include:
Chest
Stomach/abdomen
Back
Lower back
Arms
Hands
Feet
Beard
Neck
Back of neck
Face
Centre of Brows or unibrow
CAN I LASER HAIR REMOVE MY BEARD?
Yes, this is one of our most popular men's laser hair removal treatments. Many of our male patients seek treatments to improve their skin, and laser hair removal can help provide smoother skin without bumps or spots from ingrown hair and uneven skin tone. In addition, it's an affordable alternative to shaving as well as less time consuming than regular beard trims.
HOW CAN MEN REMOVE HAIR PERMANENTLY?
Laser hair removal for men offers a permanent solution to unwanted body hair- although we recommend maintenence sessions to ensure your skin remains smooth and hair free. Most male clients start with a recommendation of 8 -10 sessions depending on the thickness of the hair.
BENEFITS OF LASER HAIR REMOVAL FOR MEN
At VIVA there a many benefits to having laser hair removal which include:
Suitable for All Skin Types
Affordable Pricing
Cutting-edge Technology
Cynosure FDA Approved Lasers
Expertly Trained Team
Free Patch Test
Convenient Locations
Permanent Hair Reduction
Eliminates Ingrown Hairs
Eliminates Need for Shaving, Waxing, Sugaring, or Hair Removal Cream
HOW OFTEN DO MEN NEED LASER HAIR REMOVAL TREATMENTS?
How many sessions you may need will vary on how thick or how course your hair is. By attending a consultation and laser patch test appointment at VIVA London, you will get a free quote and consultation that will determine the cost and how many sessions your therapist will require to get you the best result.  Once you start your laser hair removal treatment, it is recommended to attend your sessions 4-6 weeks apart.
LASER HAIR REMOVAL FOR MEN LONDON
Laser hair removal is a safe and effective treatment for men looking to get rid of unwanted hair. Before getting the treatment, researching and finding the right clinic is essential. Always ensure that you opt for an experienced medical provider to ensure the best possible results. With the right advice and aftercare, laser hair removal treatment can give you the desired result of a hairless body. So why not give it a try and see for yourself? Call us at 02037332199 for your free consultation today!
VIVA SKIN CLINICS LONDON LOCATION