The word contouring has been a buzzword for years in the beauty industry now. Contouring means accentuating the appearance of certain facial features such as the cheekbones, temples and jawline to give an overall more chiselled and defined face.
Contouring with makeup involves the use of darker and lighter products to create the illusion of shadows and highlights. While this method can be an amazing way to highlight your existing bone structure, facial contouring can also be completed as a non-surgical procedure. This means that results are more permanent and require much less upkeep.
Facial contouring, also known as facial sculpting, is a procedure that can be carried out using dermal filler at VIVA Skin Clinics. But, what exactly is it? Let's take a look.
Facial Contouring at VIVA Skin Clinics
You may have heard of the 'triangle of beauty' which is the sought-after face shape in terms of beauty. The Triangle of Beauty, referred to as the Triangle of Youth, is characterised by smooth, round-shaped, high cheekbones, and a thin, sharp jawline.
As we age, facial fat loss, gravity, and loss of the skin's natural elasticity lead the charge in this triangle's composition. This leads to a narrower, less youthful forehead and temple area, and a wider, heavier jawline. This hollowing can be a result of losing weight or having a low body fat percentage. Furthermore, some people are born with less contoured faces, therefore may seek a more permanent version of contouring as opposed to using make-up.
Contouring aims to give people this 'triangle of beauty' as a result.
How To Contour with Dermal Filler
The most important area when it comes to facial contouring is the mid-face, so this is normally addressed first when carrying out a contouring treatment. The cheeks and temples are referred to the 'anchors' of the face. They determine the structure of the face so if you want to restructure the face, they should be addressed. Our skilled injectors can use dermal filler to restore volume in the cheeks and temples to lift the lower face and give definition to the brows and eye area. This is a great way to restore a youthful appearance and create a more contoured look. Patients who wear make-up often notice that when applying make-up to this area after treatment, their cheekbones 'pop' more and look more visible – beautiful!
Dermal filler can also be injected into the jawline to lift the lower face to make it look more chiselled and defined. While some people are born with a jawline they are not happy with, in most cases, the jawline appearance is affected by the ageing process. As the skin loses elasticity thanks to collagen production decreasing, the jawline starts to appear soft and lacking definition.
This is where dermal filler is perfect to replace the lost definition.
Products Used for Face Contouring
At VIVA Skin Clinics we are proud to use the Juvéderm range by Allergan.
There are two types of filler from the range that are normally used for contouring: Juvéderm Voluma and Juvéderm Volux. Both products can be used in combination with each for all-over facial contouring and added structure.
Juvéderm Voluma is used to re-volumise facial hollows by contouring the cheek bones for a fuller, softer, more youthful appearance. It is a thinner type of dermal filler, therefore gives a softer, more youthfull, appearance and is better suited to softer features.
Juvéderm Volux, on the other hand is a thicker type of filler so can be used to add structure to the jaw where it is needed balance the lower face. It works to appear and feel like a bone when it sets, make it look very natural and also long-lasting!
It even has the lifting capacity three times higher than standard filler.
Side Effects of Facial Contouring with Dermal Filler
Following injection, you may experience the following side effects:
Redness
Swelling
Discomfort
Itching
Bruising and tenderness at the injection site
These side effects will not last and are perfectly normal. Any bruising can easily be covered up with make-up.
Facial Contouring Before and Afters: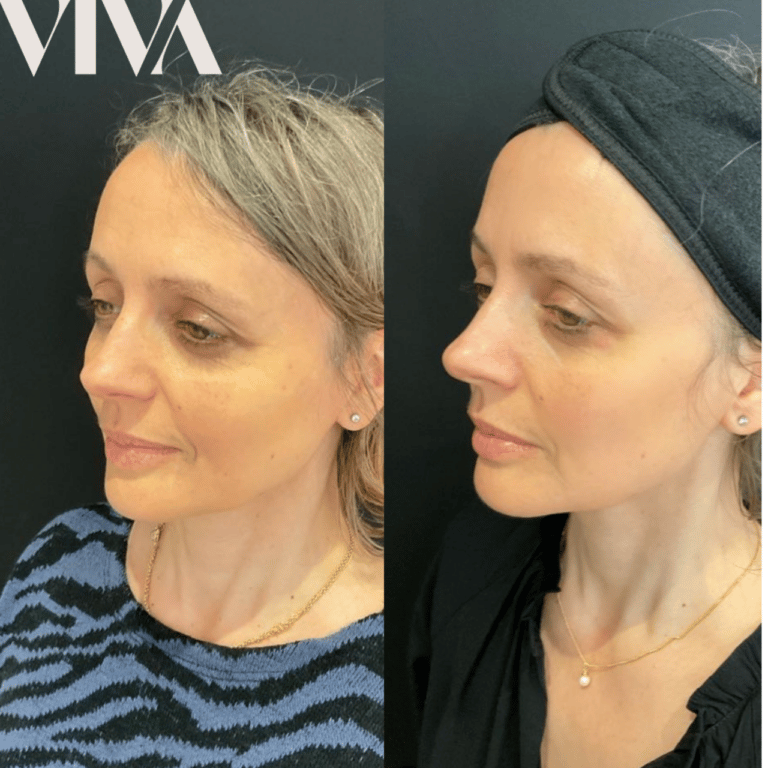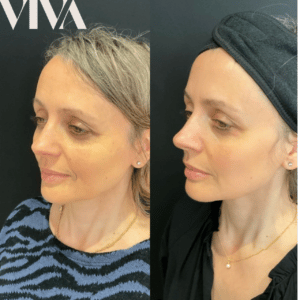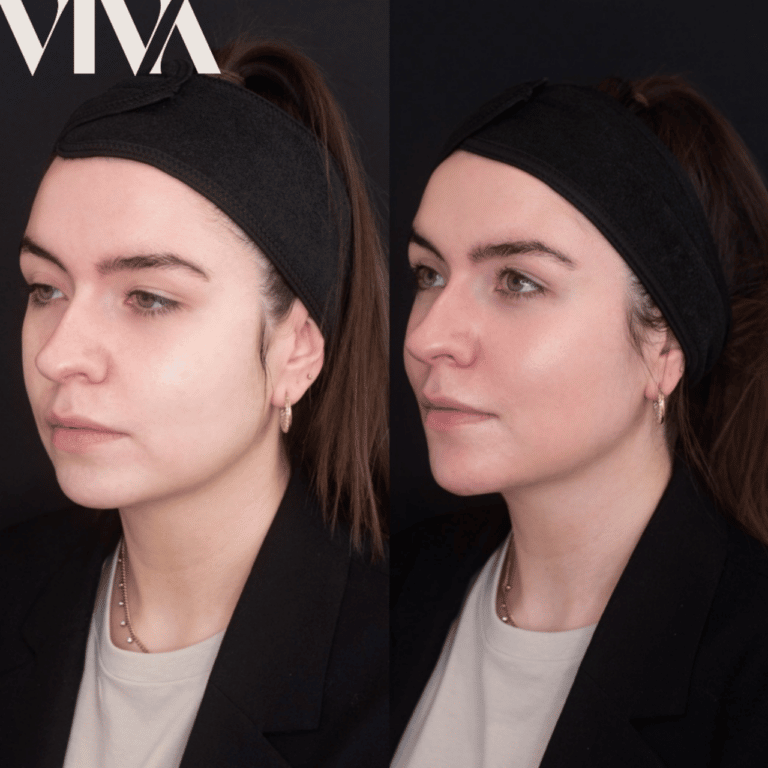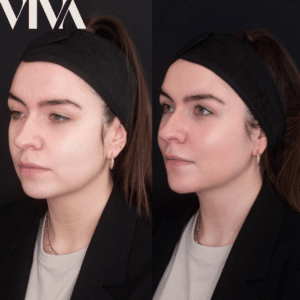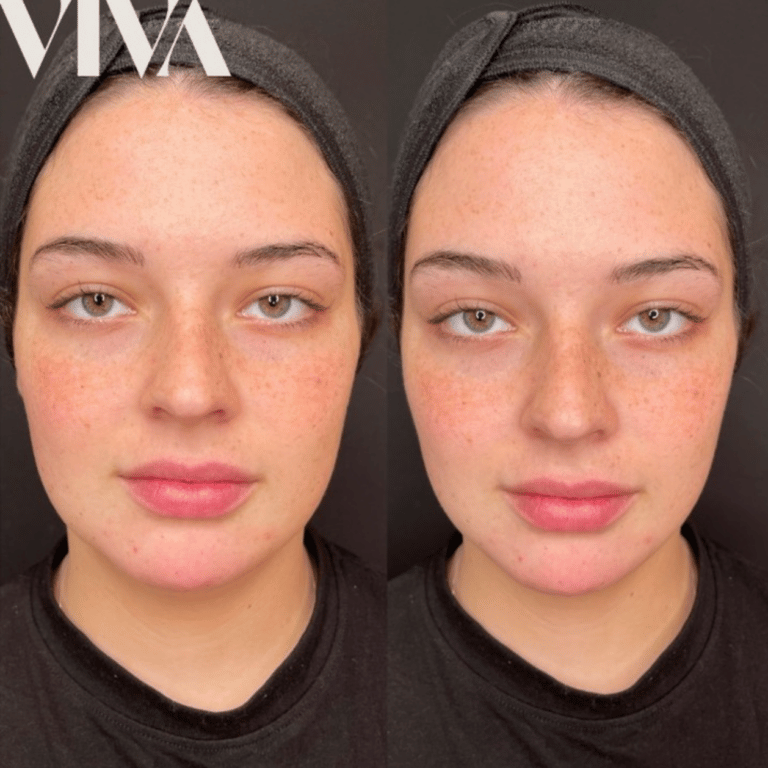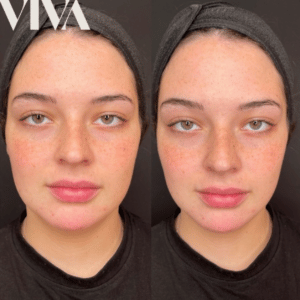 Want to learn more about dermal fillers? Read our complete guide about dermal fillers.
Interested in booking in for a dermal filler facial contouring treatment? Head to our booking page.