NON-SURGICAL NOSE JOB
If you are looking to straighten your nose or camoflague a nose bump a nose surgical nose job or nose fillers may be the right option for you. Below we outline what nose fillers are, how a non-surgical rhinoplasty works, how much a nose job costs and what to expect from your non-surigcal nose job. Many patients opt for a non-surgical solution to fix a dosal nose hump, nose bumps and croked nose to straighten and perfect their nose. Non surgical nose jobs are an excellent alternative to surgery due to the long recovery time for rhinoplastys as well as any patients who are not comfortable with general anesthetic- with nose filler you have less downtime and see results immediately after the procedure. In contrast to surgical rhinoplastly that may take months to heal and swelling to subside before final results are revealed. Below we discuss non-surgical nose jobs, the benefits, risks and cost of the procedure.
WHAT IS A NON SURGICAL NOSE JOB?
Nose filler or non-surgical nose job is a cosmetic procedure that uses hyaluronic acid or dermal fillers to correct and camoflague a nose bump or misshapen nose– without surgery. The procedure uses dermal filler injected into the nose by a doctor or nurse to ensure patient safety and high anatomical knowledge is essential due to the high risk nature of nose fillers. Nose filler can effectively acheive surgical quality results without the need for surgery with less pain, downtime, cost and recovery. Nose filler is not permenant making it a great option for those considering a rhinoplasty but would rather experience their new nose shape without the commitment of surgery or permanent results.
WHO CAN HAVE NOSE FILLER?
Patients that have a "dorsal bump" or bump on the bridge of the nose are typically suitable for nose filler however a consultation is key for this particular treatment to ensure suitability and treatment expectation and results. Below is VIVA Skin Clinics results using 1ml of dermal filler to correct a nose bump.
NON SURGICAL NOSE JOB BEFORE AND AFTER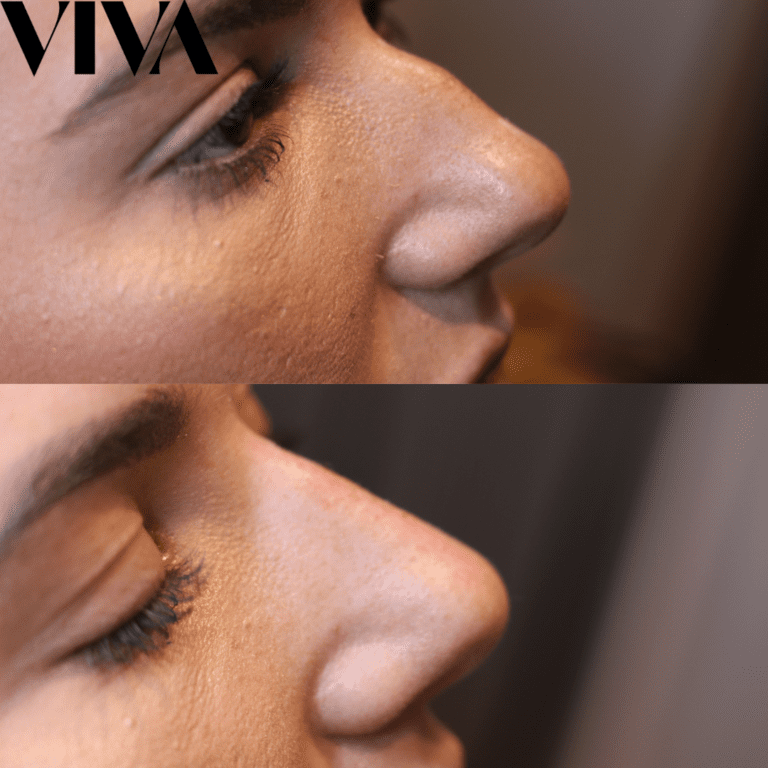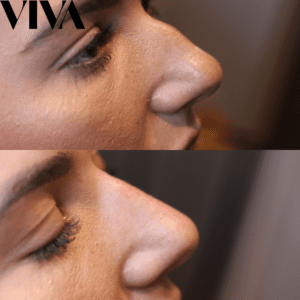 CAN A NON-SURGERY NOSE JOB LIFT THE TIP OF THE NOSE?
Yes ,the tip of the nose can also be lifted by placing dermal filler into the tip of the nose restoring a more balance facial profile and less of a drop to the nose. This technique is commonly called a "Tinkerbell Tip Lift" and is a very popular procedure at VIVA Skin Clinics. You can achieve a non-surgical nose job lift by using dermal fillers that is less downtime and less risk than surgery.
HOW MUCH IS A NON SURGICAL RHINOPLASTY?
A non-surgical rhinoplasty costs £700-£800 on average. Due to the high number of non-surgical rhinoplasty we carry out at VIVA we are able to offer this procedure below average cost starting at £400- due to the volume of nose filler we perform making us highly skilled in this treatment and the premimum quality of dermal filler we use, we are able to carry out this procedure in 30 minutes comfortably for the patient.
HOW LONG DOES NON SURGICAL NOSE JOB TAKE TO SETTLE?
In our expert opinion, you should see results immediately after treatment. You may experience some light bruising and tenderness for up to 5 days after treatment. We recommend a full two weeks before resuming normal activities. If you play any physical sports such as boxing – you will need to abstain for 4 weeks post treatment to allow the filler to settle and the area to heal.
IS A NON-SURGICAL NOSE JOB SAFE?
Yes, we perfomed by a doctor or cosmetic nurse with professional experience and training in dermal fillers they are reletively safe with little to no downtime compared to surgery. However, this dermal filler procedure is more high risk than other areas of the face- consultating with an experienced medical professional is strongly recommended as nose filler has higher risk of complications such as vascular occulsion due to the high vascular nature of the nose.
DOES NOSE FILLER HURT?
As with all filler procedures slight discomfort is expected however the procedure is quick and reletively comfortable as numbing cream is applied before the treatment and dermal filler is administered using tiny micro fine needles. Most patients find dermal filler injections tolerable and return to normal work activities immediately after treatment.
CAN I WEAR GLASSES AFTER NOSE FILLER?
No. Wearing reading glasses after filler or sunglasses is not advised up to two weeks after nose filler. We recommend wearing contact lenses for those wearing glasses daily for the first two weeks after treatment and abstaining from sun glasses to up to two weeks after a non-surgical rhinoplasty.
HOW LONG DOES A NON SURGICAL NOSE JOB LAST?
How long a non surgical rhinoplatsy lasts is dependent on the filler product used for the treatment. On average you can expect the results to last 8-12 months with retreatment needed should you wish to continue to maintain the results.
WHY CHOOSE VIVA FOR A NOSE JOB?
Safety is our number one priority when it comes to nose filler. Because a non-surgical rhinoplasty is high risk due to the area of injections, it is paramount that you choose a highly qualified doctor or nurse who has years of experience treating this area and understands the facial anatomy and risks associated injecting the nose. Your chosen injector should be able to manage risks such as vascular occulusion when proceding with this type of filler treatment.
READY TO BOOK NOSE FILLERS?
We offer free consulations for nose filler at both our London and Kent clinic with all of our cosmetic injectors. Our team is routinely trained and audited to ensure high quality treatments are performed with safety and patient satisfaction as the number one goal at our clinics. If you are ready to book you can do so online here or call our team at 02037332199.